What's Your Multi-Cloud Strategy?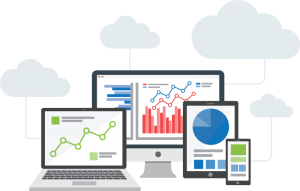 According to IDC, the need for business agility post-pandemic is what will make 2021 the year of multi-cloud, with the market research agency predicting 90% of businesses will rely on a multi-cloud strategy by 2022.
But if you're just catching up with this latest cloud trend, don't worry! Here's what you need to know about multi-cloud and why it's set to become the IT solution of choice in 2021.
What is multi-cloud?
Multi-cloud is a strategy that relies on multiple cloud platforms from different cloud providers. It includes several public clouds but can also incorporate physical and virtual infrastructure. These different parts of your strategy work in silos, each performing their assigned function. Often, people use multi-cloud so they can get all the environment, applications and tools they want without having to find all this in one single provider.
Multi-cloud is not to be confused with hybrid cloud. Hybrid solutions allow you to employ aspects of a public and private cloud environment, which work together to give you your desired function. Unlike multi-cloud solutions, the two parts of a hybrid solution exist alongside each other, with data and processes able to intermingle and intercept.
How are people using multi-cloud?
This type of solution is rapidly increasing in popularity. Which is to be expected. I mean, if there's an opportunity to get everything you want out of cloud, you're hardly going to let it pass you by.
In most cases, multi-cloud is being used by people who want a mix of products that their main provider can't deliver in one solution. For example, you may want a great private solution as your base camp for main operating systems, but you also want a nifty application you can only get from another vendor. Then you may want another favourite tool you can only get from yet another supplier. Each of these components are in their own cloud, hence forming a multi-cloud solution.
What are the advantages of multi-cloud?
It allows a particular application to run at its best, on the cloud platform it is best suited to.
You can use one cloud for legacy apps and another one for higher speed and memory e.g. hosting your main system on one cloud and your super-fast eCommerce site on another.
Avoid vendor lock-in. By remaining vendor neutral, you can pick and choose exactly what suits you and select the best tool for the job.
It allows you to scale by employing a mix of cloud platforms and functions, which you can adopt and drop along the way as your business develops and expands.
Optimise cost and performance by finding the right combination of cloud providers to match your technical requirements and budget.
A few things to consider
Before you throw caution to the wind, there are two main things to consider when adopting multi-cloud.
The first is security. At the end of the day, you're trusting multiple third parties with your valuable business data and the security of this is not to be overlooked. Make sure all of your cloud platforms are just as secure as each other. If any of your solutions are managed, double check whether patches and updates will be automatically carried out as part of your service. If not, keep an eye on vulnerabilities released and seek guidance from your providers on how best to keep your security in check.
The second is to avoid just using multi-cloud as a form of load balancing. Though it may sound like a great idea to get fewer single points of failure, load balancing all your data across multiple solutions with multiple providers means greater latency and overall poorer performance. So, considering the point of multi-cloud is to optimise performance, we recommend load balancing your solutions across different data centres with the same provider. This gives you the same increased redundancy, but higher performance and much lower latency.
Harness the power of eCloud, AWS and Azure with UKFast's multi-cloud solutions, backed by 24/7/365 support from engineers specialised in AWS and Azure management.