How cloud can help you meet your sustainability goals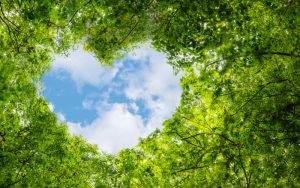 Up to 75% of ethical UK companies reported commercial gains once they became sustainable, yet going green is still one of the lesser-discussed benefits of cloud computing. With a third of these organisations also declaring lower operational costs, it's clear that cloud adoption ticks both boxes.
And this isn't news. As far back as 2013, Google argued that a switch from traditional computing to cloud would reduce the energy levels of US businesses by 87%. By 2018, Google's data centre processes had increased by 550%, while their energy consumption grew by just 6%.
Yet some organisations remain unconvinced. That's why we're here to make the case for cloud's green gift, and how it could light a fire under your business this year.
Work from anywhere
The pandemic put cloud's capabilities to the test. Zoom became the hub of corporate communication, and remote desktops let us access work computers safely from home. Small companies saw a 90% reduction of carbon emissions per user, while large businesses experienced a 30% drop.
During this time, paperless finally became a real possibility. What's more, businesses worldwide began a process of dematerialisation, replacing high-carbon products with virtual equivalents. Naturally, organisations that use the cloud extensively have less need for infrastructure, therefore reducing the amount of waste caused by product disposal.
Not only that, freedom from on-premises equipment meant companies could keep on top of costs. UKFast's eCloud® solution for example, provides pay-as-you-go pricing, so businesses can adapt to the new normal without harming their finances. As a result, customers can lower their carbon footprint, save money from upfront costs and migrate compute-intensive workloads.
Lower consumption
Every organisation has different cloud needs. Some want a simple storage solution, and have no intention of building or deploying complex environments. But even in these cases, there are savings to be made (both financially and environmentally) by moving off-prem.
After all, traditional on-site storage produces greenhouse gasses throughout its life cycle. From the development of raw materials to the disposal of hardware that can no longer be used, every stage has irreversible effects on the environment. Not to mention the amount of energy it takes to run the tech and keep the room cool.
A data centre on the other hand, is custom made to house this technology. Likewise, our eCloud platform uses servers stored in our UK data centres. Not only are they purpose built and ultra-power efficient, they're also carbon neutral. In fact, we were the first UK hosting company to achieve the PAS2060 Carbon Neutral standard.
Our approach
UKFast continues to invest in green initiatives. Along with providing wider public cloud services,  we can also offer carbon-neutral cloud hosting, thanks to our eCloud solutions. So what are you waiting for? If you want to lower your impact on the earth, improve your business, and reap the financial benefits, check out our services today.
Start your green hosting journey today.