Why cloud plays an essential role in your digital transformation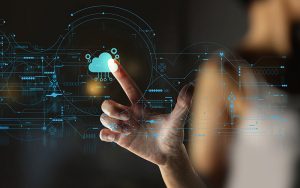 Despite the financial concerns caused by COVID-19, 59% of IT decision makers say the pandemic has accelerated their digital transformation. With an estimated 10.4% increase in spending in 2020 alone, it seems more businesses are starting to acknowledge the growing need for a radical overhaul in the way they operate.
When the pandemic began, only a handful of organisations were prepared for remote working. The rest were caught off-guard and left themselves exposed to online dangers. Going forward, it's clear that the only way to prevail in the 'new normal' is to embrace modern tools and respond to the ever-evolving market.
It's easy to feel daunted when presented with so many options. But if there's one surefire way to kickstart your transformation, it's cloud adoption. In fact, according to the Cloud Industry Forum, 82% of businesses believe it's essential. Here, we explain why.
What is digital transformation?
Digital transformation means integrating digital technology into all areas of your business. It impacts everything, from your team dynamic to how you deliver value to your customers.
The process itself differs for every business. While some might invest in improving their online shopping experience, others could look for ways to get more from their data. Take Nike for instance. Feeling sluggish and outdated, they transformed their supply chain to better connect with their fanbase.
So, whether you want to acquire new revenue streams or simply survive in today's climate, the important thing to bear in mind during your digital transformation is that all changes should benefit your business.
Why is it useful?
Agility is everything. Post-pandemic, companies need to adjust to limited supplies, market pressures and changing customer expectations. Complete digital transformation provides ample opportunity to connect. The use of apps and social media, combined with a consumer-focused website, can all help to boost your business.
What's more, digitalisation cuts the fat off your legacy systems. You can't embrace the latest technology if your team is running on outdated devices. But with a full transformation, every piece of software is in sync, allowing you to adapt to any unforeseen market changes.
It also eliminates your security concerns. After all, if your team is fully converted, working on newer devices with updated software and protection, then it's exposed to fewer vulnerabilities.
Where does cloud come in?
Cloud is the foundation of the agile business world. Its infrastructure enables organisations to build responsive applications, and lets them scale safely by optimising their IT resources. With cloud, you can set yourself apart from your competitors.
That's not all. If you're constantly paying maintenance costs due to your on-premises technology, then you're restricting the amount you can invest on new software. Cloud, on the other hand, only charges for what you use, so it's easier to experiment with new ideas and grow your business.
It can also be more secure – especially when you partner with a provider like UKFast. With our support you can ensure your infrastructure is correctly configured and protected against vulnerabilities. This extends to user error, as our experts can help to upskill your team so they're not likely to damage your setup.
Why wait?
Don't miss the opportunity to get ahead of your competitors. Cloud provides a reasonably priced entryway into digital transformation – so what's stopping you? 
To find out more about UKFast's cloud services, get in touch today.