3 steps to eliminate security debt and protect remote workers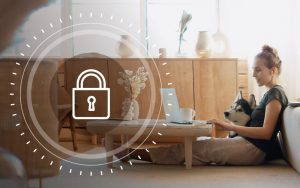 Alongside the devastating economic impact of the recent pandemic, hackers have been taking advantage of a predominantly remote workforce, launching more advanced cyberattacks. 
In fact, in the UK £6.2 million has been lost to cyber scams in the past 12 months, a 31% year-on-year increase. This is having a negative impact on security debt. 
Security debt happens when your organisation hasn't invested enough in security upfront. Unable to invest the time, resources and money into patching digital threats as they arise, these seemingly small vulnerabilities become larger issues that leave your business open to exploitation. 
But it doesn't have to be this way. By understanding your security debt and taking appropriate action, you can minimise vulnerabilities in your network and prevent future attacks. 
If you're unsure where to start, here are three steps you can take to minimise security debt in your organisation.
Step 1: Enable secure virtual working with cloud
There's been a 600% increase in reported phishing emails since the start of the pandemic as cybercriminals look to exploit the weakest link in business security – employees.
The work from home model and unsecured WiFi networks have left employees open to phishing scams, with the rise of malicious links leading to an increase in malware and keylogger downloads.
The good news is that these risks can be mitigated by adopting a cloud-hosted desktop or Desktop as a Service (DaaS) solution. Managed Service Providers (MSPs) like UKFast can run these virtual desktops for you, making it easier for employees to securely access company data and files from any location, on any device. 
Operating from a centralised platform in this way ensures improved business continuity. As both company data and every employee's desktop is encrypted and backed up in the cloud, any device that is compromised can be remotely wiped without any critical data being lost.
Step 2: Outsource vulnerability management to cybersecurity experts
The overwhelming majority of security issues are caused by old, unfixed problems. All too often, limited IT resources in-house result in routine patches and updates being overlooked. It's inevitable that once a vulnerability is considered low-priority, it's less likely to be patched. 
If left unchecked, these vulnerabilities quickly escalate security debt, leaving your business at greater risk. But the good news for IT teams is that there's a simple solution.
By outsourcing vulnerability management you can extend the capacity of your IT team, drive down costs, bring security expertise into your business, and reduce your security debt. Here's how it works: 
Cut costs with access to the latest security tools:

If you don't have headcount for a security expert in house – or the budget to invest in the latest security tools – a managed security provider can act as an extension of your existing IT team. This brings the right security expertise and tools into your business, without the heavy overheads.

Reduce security debt with a health check:

Reducing security debt requires you to go back and patch every security vulnerability that you have ever deprioritised, a time consuming task on top of your day job. By plugging historic security issues to bring your protection up to speed, a managed security provider helps reduce security debt, removing the pressure on your in-house IT team to manage the process.

Patch vulnerabilities in real-time:

Once your security debt is minimised, rather than letting vulnerabilities escalate, outsourcing vulnerability management to experts like UKFast gives you access to 24/7/365 security support, so you can patch vulnerabilities in real-time.
Step 3: Create shared responsibility for cybersecurity
Nearly a quarter (23%) of business security breaches were caused by human error in 2020. So, once you've patched your old vulnerabilities and put in place more secure working environments for your remote teams, you need to create a secure culture and educate your teams on how to identify malicious activity and phishing emails
There's no one size fits all approach, but by creating a security first culture and prioritising investment in training, you can reduce the risk of human error in the security process. If this is a new approach for you, here are a few tips on how to get started:
Assess your existing security culture:

You know what good and bad security behaviour is, but does everyone else in your organisation? By surveying employees on their current understanding and knowledge of cybersecurity you can identify if, and where, any gaps in their knowledge exist and how much tim

e

you need to invest in educating teams about good (and bad) cybersecurity practices.

Keep security policies concise and easy to access:

In writing out policies, such as your Work from Home policy, take extra care to keep it as simple as possible. Include what risks employees need to look out for, what they can do to avoid them, and when and where to report an issue. Then, make sure these policies are easily accessible.

Create security awareness ambassadors:

Employees are likely to take cybersecurity more seriously when they understand the impact a security breach could have on them. By allocating security ambassadors in each business unit or department you can make security – and the impact of breaches – more relevant to every employee in your business.
If you want to get started on your journey to cancelling security debt, but don't have the expertise in-house to do so, contact us to find out how we can help/support.