Closing the digital divide: UKFast donates tech to local school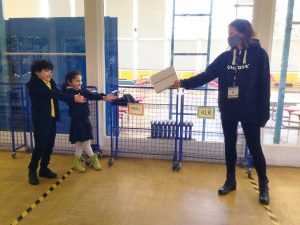 Anyone who's followed UKFast for a while will know that we're pretty big on education. We have an on-site teaching team and education centre, offering training to our colleagues and partnering organisations, as well as our local community. It's also where – out of lockdown – we offer code clubs for children during the school holidays.  
Aiding home learning
Our usual outreach to local schools didn't stop just because of the current restrictions. Instead, we sought out ways in which we could help local schools ensure that students were able to continue to learn at home.  
So, when we heard of some of the struggles St Margaret's primary school in Whalley Range was dealing with, we knew we had to do something. Donating £10k worth of new kit to the school, we offered a relief to some of the school's families where, in some cases, children were having to home school using just a mobile phone or having to share one device between three or four siblings.  
St Margaret's Head Teacher, David Hunter, said: "UKFast's generous donation will make a huge difference to pupils' learning, both in and out of school." 
The digital divide
Lizzie Bowen, Group Lead of The Equality Network at UKFast said: "At UKFast, we care about digital inclusion and we are always looking for ways to help close the digital divide. We are so happy we've been able to donate to St Margaret's and know the equipment will be used to support tech accessibility to those who need it most." 
A 2020 report revealed that as many as 1.8m children in the UK do not have access to a laptop, desktop or tablet at home. Closing the digital divide is important not only in the current circumstances for facilitating home learning, but also in the wider scheme of ensuring children develop the skills they need to succeed in the digital future.  
Good luck to the staff and pupils of St Margarets!  
Sharpen the kids' digital skills at home with UKFast Code Club.