Digital Nomadism: Has the pandemic led to the rise of a remote working culture?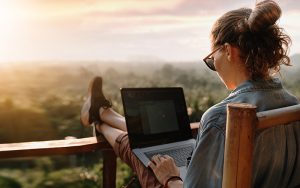 Travelling as part of your job was once limited to aircrews and global salespeople. But today, with a laptop, a passport and some remote working essentials, you can explore and earn in equal harmony.
Currently, tens of millions of people from around the world work in this way, and an estimated 17 million aspire to in the future. So, is digital nomadism set to become the new norm? Here, we take a closer look at this growing trend and how the pandemic has played a part.
What are digital nomads?
Digital nomads have a 'work from anywhere' mantra. They trade in home set-ups for virtual offices, using the freedoms associated with telecommuting to conduct their business in any location. Much like traditional nomads, their digital counterparts lack fixed habitation – though they rely on the world wide web instead of horse and saddle.
Freelance marketers and writers are common examples, as the nature of their work means they can operate from the destination of their choice. But, as technology continues to advance, the number of occupations taking advantage of this way of working is set to rise. With the right skills, drive and remote working essentials, almost anyone can join the digital nomad culture. 
Why the attraction?
According to a recent survey, 90% of digital nomads are highly satisfied at work. That's because travel lovers get the chance to see the world while simultaneously earning a reasonable living. And it's getting easier to achieve. 
The practicality of more nimble, high-performance laptops allow a seamless transition from desk to destination, while quicker internet speeds, slicker communication platforms and smarter organisational apps create a fool-proof environment for the roaming worker. 
But technological developments and flexible job roles aren't the only contributors to this growing trend. The COVID-19 pandemic led to widespread remote working, and, when combined with year-long foreign travel restrictions that have left many itching to get away, digital nomadism is starting to look very appealing.
Where do we come in?
While it's never been easier to adopt this lifestyle, you'll still need a few remote working essentials. After all, technical glitches will cause problems that could be difficult to fix if you're in a far-flung location.
To operate efficiently, safely and securely while on the move, you must have a reliable device, the right data solution and remote working cybersecurity software. Cloud is also a necessity – hardware-free solutions let you travel light, with remote office VPN access, data backup and file sharing/storage, plus seamless app and desktop hosting all possible via cloud technology. 
That's not all. It's important to remember that hackers will follow you wherever you fly. So bolstering your defences with quality remote working cybersecurity measures is equally essential.
Hassle-free productivity that leaves you free to explore the globe is the dream deal – and it's achievable.
Take a closer look at our remote working solutions that can set you on track to becoming a digital nomad.