The 5 biggest myths about dedicated servers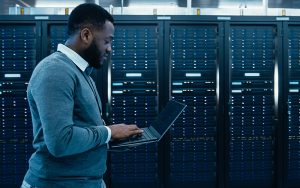 When it comes to hosting, the best solution is the one that's bespoke to your business. After all, there's no point copying what your competitors are doing if you're looking for a service that meets all of your objectives.
Take dedicated servers, for example: a hosting service that's devoted to your applications alone. For businesses with a growing website, complicated legacy applications or a service that needs to be able to handle peaks of traffic, dedicated servers can be unparalleled.
However, some business owners remain unconvinced. This is thanks to a number of myths around dedicated servers which are blurring the benefits. So, to help inform your choice of provider, we've dispelled the five biggest misconceptions below.
1. They aren't worth the cost
Unlike on-prem servers, where you've no choice but to pay an upfront cost as well as maintenance charges, dedicated servers are billed to you in monthly installments. This is much easier on the budget. It wasn't always like that, though, which is why the myth is still prevalent today.
You can actually improve your dedicated servers' value for money by working with a Managed Service Provider (MSP) like UKFast. While this may slightly bump up your hardware costs, you'll enjoy improved infrastructure, regular maintenance and better connectivity as part of your service. We have data centres for this reason, equipped to store your infrastructure at an affordable price.
2. They're vulnerable to threats
Dedicated servers are in no way more vulnerable to threats than the cloud. In fact, some businesses prefer to store sensitive information on-prem so that they can remain assured of their data's location. With GDPR and Brexit highlighting the importance of data sovereignty, businesses feel much more confident in their compliance if certain information is kept on-site.
However, dedicated servers that aren't properly maintained are at the mercy of human error and ill will. That's why we recommend that businesses with a preference for dedicated servers use ours instead of housing one themselves. Our UK-based data centres are guarded by security personnel as well as top-of-the-range cybersecurity protocols to ensure you're secure.
3. Performance is inconsistent
Provided your dedicated servers have the correct provisioning for your business, you'll maintain the same level of performance – even during peaks in traffic. Obviously, if you're under-provisioned then you'll incur downtime. Likewise, if you're over-provisioned you'll be paying for more than you need.
This is where an MSP can help. While there are organisations with a firm understanding of their needs, a significant number of companies could use the support of an MSP. They'll take the time to understand your exact requirements and future plans, and will tailor your server accordingly.
4. They're limited
Not at all. When you host with an MSP at least, you get access to their superior bandwidth. For example, host with UKFast and you'll be able to enjoy multi-100G connectivity. Remember, unlike your business which is running other devices as well as your servers, these facilities are built for this purpose.
We also have a 100% network uptime guarantee, with engineers manning our data centres 24 hours a day. And, if downtime is non-negotiable to your business, we can even offer a backup server in one of our other data centres to get you back up and running.
5. They're outdated
Everybody thinks the cloud is the future. Public cloud platforms are discussed constantly on tech forums and you'd be forgiven for thinking they're now the only solution available. This is in spite of the fact that around 72% of cloud users adopt a hybrid-cloud strategy.
In a large number of cases, this is because businesses have legacy applications that they simply can't move to the cloud. Similarly, there is data on these applications (or elsewhere) that businesses wish to keep on their premises. Having a dedicated server along with your cloud platform allows you to support all applications and address your security concerns.
So what are you waiting for?
If your business is in the market for hosting, why let misinformation hold you back? A dedicated server has everything you need to challenge industry leaders and ensure the best customer experience.
UKFast's dedicated servers are built on best-of-breed tech and housed in our carbon-neutral, ISO 27001 and PCI-DSS compliant UK-based data centres.