4 WFH lessons we learned in lockdown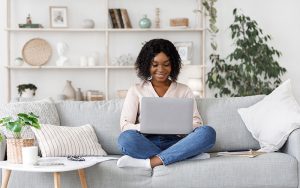 In April 2020, 46.6% of the working UK population were working from home in some capacity. 86% of those did so because of the COVID-19 pandemic. This was just four weeks after Britain entered lockdown for the first time, and businesses were scrambling to return to their previous levels of productivity.
Employees were working from a range of devices – some personal, others company-owned. Some staff members were balancing childcare responsibilities in-between Zoom meetings, while others were battling poor connectivity and weak phone signals.
Now, almost a year on, remote working seems set to become the new norm, with many organisations looking to implement permanent WFH solutions. So, it's important we reflect on these early stages and see if we've discovered any new ways to make WFH easier. Here are our top four lessons from lockdown and how to action them.
1. Cybercrime is on the rise
In the early scramble from office-based working to working from home, few businesses considered the impact on security. As a result, sensitive data would be passed from pillar to post between personal devices, all with varying degrees of cybersecurity. The result? An unprecedented level of cybercrime.
Ignoring the fact that cyber-attacks have become more sophisticated, employee-owned devices just aren't as protected from threats as those on a corporate network. Over 90% of data breaches are a result of human error, after all. The end-user has too much control over what they can download and install onto their device. In many workplaces, however, individuals have their rights restricted in order to protect company assets.
Now that there's been some time to process the 'new normal', internal security protocols can be emulated in a remote working environment. The likes of remote desktops, for example, allow users to access their corporate accounts from any device without compromising on security. Adopting this kind of technology is the only way to securely work from home.
2. Wellbeing is more important than ever
93% of all employees have faced new wellbeing challenges in 2020. Most common of all is the feeling of being less connected to their company and colleagues, followed by an increased feeling of loneliness and isolation. Yet for some, this feeling of distance has been counterbalanced by the benefits of remote working.
In fact, even employers now realise the advantages. In a survey of 13,271 UK employers, 60% had never allowed working from home before the pandemic. Now just 9% would prefer to work solely from the office in the future. This suggests that remote working will transition from being an employee benefit to standard working practice.
This isn't enough though. Your team will need more to maintain the same levels of performance post-pandemic than they did beforehand. Consider instead a financial wellbeing initiative (this was the most desired perk in the same survey). Alternatively, look at ways you can help train and develop your staff so that they feel more of a connection to your business today.
3. Performance can be improved through platforms
A lot of businesses will have struggled to meet the same financial goals that they did in 2019. Similarly, a large number of your team may not have achieved the 2020 goals set for them by management. For this reason, you need to build a new barometer for success when conducting your annual performance reviews.
Start by looking at how the company as a whole has innovated in order to continue operating. Next, consider the teamwork and leadership necessary to have sustained this level of innovation. Finally, review the ways in which you and your team have grown, not just survived, and reward those who have progressed – both personally and professionally.
After this, look for ways to optimise your current working environment through the likes of technology. Project management and scheduling platforms are perfect for businesses who need to communicate online. Tools such as Slack and Trello enable you to oversee your team's output in real time, helping you to monitor performance and add additional resources in areas where you're falling short.
4. Consistency is key
In business, we are what we do. And if your business survived 2020 thanks to your constant availability for customers, you need to maintain that availability during any future lockdowns and beyond. With the right service, you can be certain that's the case.
Whether you're operating a cloud setup or relying on dedicated servers, it's important to ensure you have the right provisions in place to meet customer demand, ensure uptime and, ultimately, preserve business continuity.  So, you need to ensure that the environment you're operating within is tailored to your unique requirements. This means building in contingencies to keep you online and operating at peak performance, when it matters.
Often, this requires a level of support and oversight that only a managed services provider like UKFast can guarantee. With a fully managed hosting solution, you can be certain that your setup is well architected and closely monitored, with expert support on hand whenever you need it. 
What are your biggest takeaways from lockdown?
If there's been a lesson learned in your business that we've not covered above, we'd love to hear about it. You can reach out to us on Twitter, Facebook and LinkedIn, where you'll also find the latest updates from our team.
Make remote working work for you.