Is your IT team cloud-ready?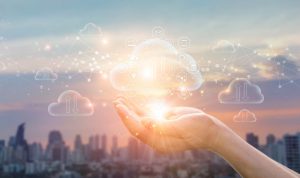 When used to its full potential, the cloud has the power to future-proof your business, offering invaluable cost savings and unrivalled flexibility. But the cloud isn't a one-size-fits-all solution, and the way you adopt it may be very different to how someone else uses it. You might choose to only migrate a few applications, adopt a hybrid cloud model or host all your infrastructure on a public cloud solution.  
Once you identify which solution is right for your business, the next challenge you'll need to overcome is whether your IT team have the time and the expertise to make your cloud vision a reality.  
Is your
 IT team holding you 
back?
We've previously highlighted the challenges businesses are facing in 2020 as a result of the growing cyber-skills gap. As part of its research into the shortage of skills in the UK cyber–market, the government identified that a lack of expertise in cloud computing was not only a current skills gap, but a gap that would continue to widen over the next five years.  
It's no surprise then, that when it comes to barriers to cloud transformation, a lack of resources and expertise is regarded as a challenge for 78% of enterprises. And even for those who are ploughing ahead with migration despite this concern, the lack of technical skills among in-house IT teams can mean projects take longer to complete.  
A recent survey found that 70% of organisations reported that their cloud transformation is taking longer than planned. Furthermore, Forbes has reported that IT talent shortage is a major corporate concern – with 86% of businesses stating they believe it will continue to slow down cloud projects. 
Building a new team
So, how can you ensure a successful, on-budget, on-schedule cloud migration? If you've never worked with cloud before, or never at the level you now desire, you may find that your existing IT team lacks the expertise to deal with your solution and the ongoing management.  
Along with upskilling your existing team, you may need to consider looking to hire technical roles. Personnel specialising in cloud architecture, networking and development, cloud security and DevOps can help you ensure you get the most out of your solution. If you plan to adopt a multi-cloud approach or hybrid solution, you'll need an IT team that can deal with integrating your systems seamlessly, and that knows how to optimise applications across your infrastructure.  
Of course, with the desired skills in high demand, finding team members with the right expertise may be a challenge in itself. You also need to consider the cost implications of training existing personnel and hiring new staff.  
Time well spent
What is your IT team not doing while it's looking after your infrastructure, updating software and maintaining cloud projects? On-prem infrastructure, legacy systems, patching and security tasks can be time consuming and, for most IT professionals, it's not what they'd rather be doing. Instead, they could be investing their time in contributing to new processes, applications and other developments with the potential to drive your business forward or reap financial reward. What could your team do with a little more time? 
Before you begin your cloud journey, it's important to consider what duties your IT team will need to step away from to handle the project and its ongoing responsibilities. With a shortage of skilled professionals in this area, those that have the right expertise are often holding down such a high workload that they're unable to undertake further training to stay up to date with new developments in the industry.  
Is managed cloud the solution?
Partnering with a cloud provider can help take some of the weight off your team – with infrastructure hosted securely in data centres, your IT team no longer has to worry about looking after it. A partner who offers managed cloud solutions, however, takes even more responsibility.  
Becoming an extension of your IT team, a managed cloud partner provides the expertise for every step of your migration and beyond. From consultation to architecture to maintenance, your partner will take the lead so your IT team can get to work on other projects. Choose the right partner and you'll find that not only is support available around the clock, but they'll offer to help develop your team's skills too – so if you ever want more independence, you'll have the option.  
Discover more about managed cloud service, and what you should be asking vendors in our free buyer's guide.