Can auto-scaling in the cloud save online businesses?
This guest blog is authored by ClearCloud Sales Director, James Grindley.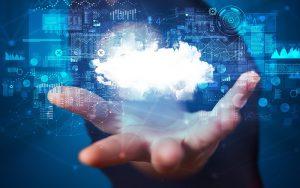 By now, I'm sure you're all probably tired of hearing about Covid-19 and the impact it's had on business. But what you might not know is how the pandemic has also caused a shift in cloud usage.
Throughout 2020, a number of businesses realised the potential and advantage of the flexibility offered by managed cloud in a constantly changing digital world. Where before they avoided the lure of unknown fees, companies are now realising the benefits of a payment plan that's based on usage.
The cost of the economic slowdown
When the first lockdown happened, a large number of businesses struggled with the loss of custom. This wasn't just brick and mortar stores, but also online companies offering products and services that no one in lockdown had any use for. Despite the lack of traffic, these companies were still tied into contracts with their hosting provider.
Just like renting a property you could no longer live in, these organisations found themselves paying for availability that they had no use for. There was no traffic coming to their site and, given the situation, it was reasonable to expect there wouldn't be for some time. So, without regular income, their hosting contracts were suffocating them through their rigidity.
As we begin 2021 with another lockdown underway, businesses are understandably sceptical of using the same old model. Instead, there's a demand for a 'pay-for-what-you-use' style service. And currently, only auto-scaling in the cloud allows for this.
What is auto-scaling?
In the cloud you can scale up and down. Auto-scaling is the automation of this process, allowing your resources to respond automatically to changes in demand. In addition, as auto-scaling allows you to spread your applications across multiple instances, you'll get the added benefit of high availability, which will reduce the risk of downtime.
With this model, you're now scaling in response to demand. So instead of paying a fixed rate throughout a contracted period, you only pay for the resources you actually need when you need them. This typically means you'll save money during periods of low traffic and reduced sales – whether that's for seasonal reasons or related to world events.
Of course, auto-scaling sounds easier than it is. For one, it isn't exactly automatic. You can't just approach your system and instruct it to build two instances that reflect the source code. You need to write code, configure them, allocate the resources you want as your minimum and work out how many you're willing to pay for to accommodate spikes – your maximum.
Where to start
Your first step is to create an action plan. Know exactly what you want to achieve by using cloud and map out how your chosen platform will help you meet your goals. If you don't know which platform to choose, a vendor-agnostic managed service provider can help advise – keeping your business needs at the forefront.
Once you're confident in the compatibility of your chosen provider, ensure you have the expertise in-house to handle the platform. Auto-scaling in particular will require a level of hands-on knowledge for you to maximise its effectiveness. Bear in mind that using the services of a consultant to help you migrate can leave you stuck further down the line, with no autonomy to manage your own solution.
Consider a cloud partner with a co-delivery approach. At UKFast we collaborate with your team and co-deliver a cloud solution tailored to your needs. We'll upskill your staff and turn them into cloud engineers. This way, they can manage the maintenance and save you a fortune in consultancy costs.
Ready to auto-scale in the cloud?