4 cloud predictions for 2021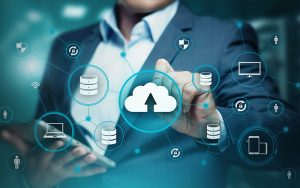 There's no denying 2020 was a big year for cloud. The need for organisations to cut costs, work remotely and improve resilience drove increased adoption globally, across all sectors. As we look ahead to what 2021 will bring, it's clear that the trend is set to continue, with reliance on the cloud playing a greater role in this year's business plans.  
Investment in cloud technology is predicted to grow at such a scale that Gartner believes it will account for 14.2% of the total global enterprise IT spending market in 2024, a jump from 9.1% in 2020.  
With a growing number of businesses realising the benefits of increased cloud adoption, the year ahead is sure to include some exciting new developments in the world of cloud.  
Here are our top four predictions for the cloud market in 2021.  
1. Public cloud adoption will grow
Historically, fears about security and performance limitations have hindered public cloud adoption in a big way. Without a clear understanding of the benefits a well-architected solution can bring to your business, it's easy to see why adopting public cloud could seem daunting. The notion of sharing resources with other organisations has traditionally proven to be a deterrent for many – but finally the tide seems to be turning.  
With Gartner forecasting global public cloud spending to grow by  18% in 2021, it's clear that businesses are realising that shared resource doesn't equate to unsecured resource. The sheer scale of public cloud providers such as AWS and Azure means that they have huge internal teams dedicated to keeping the platform secure.  
Public cloud adoption is a sure-fire way to make your IT budget stretch a little further and, with finances suffering in 2020, any money-saving ventures are bound to be priority for the year ahead.  
2. Hy
b
r
i
d
a
n
d 
m
u
l
t
i-cloud
 take centre stage
One big lesson from 2020 was the importance of flexibility. It's no surprise then, that hybrid cloud is expected to remain the model of choice for the year ahead. The beauty in hybrid lies in the option to provide a solution for almost any business. For those operating with highly sensitive data, or reliant on several legacy applications, a hybrid solution offers the opportunity to still benefit from the technological advances that cloud has to offer.  
By combining public cloud with private cloud or dedicated servers (either on-premises or in a data centre, depending on your needs), hybrid provides the best of all worlds. Businesses can retain control and security over data, whilst reaping cost savings and agility provided by running other workloads in the public cloud. Expect to see much more of this in 2021.  
We're giving an honourable mention to multi-cloud here too. Following on from our first prediction about growth in the public cloud sector, a growing number of organisations are realising they don't have to choose between platforms. AWS, Azure and GCP all offer unique advantages – so why settle for one? A multi-cloud strategy means you can match your workloads to the most appropriate public cloud platform, optimising performance and cost efficiencies.  
3. Data protection and business continuity
Show of hands – how many businesses didn't have a business continuity plan in place at the start of 2020? The pandemic put the importance of this often-overlooked business practice into perspective, and, in the year ahead, expect to see this being rectified. Cloud will once again play a starring role, not only facilitating effective remote working, but also aiding disaster recovery planning.  
Protection of data is more important than ever, as is prevention of downtime. Cloud-based disaster recovery as a service solutions make sure you can meet your recovery point objective (RPO) and recovery time objective (RTO), so a disaster situation doesn't cost your business more than it needs to.  
4. Managed cloud
will be the new norm
Just like anything in life, cloud adoption is easier when you know how. Expertise is invaluable and having things done right from the offset will always pay dividends in the long run. That's why a growing number of organisations are turning to managed cloud – where expert support is always on hand to ensure your solution is secure, high-performing and fully optimised.  
Whether you choose a private, public, hybrid or multi-cloud strategy, your transformation will be smoother with support from the right managed cloud provider. Especially if your in-house teams need a little help in brushing up their cloud skills – managed cloud means access to specialist architects and engineers who will be happy to pass their knowledge along.