4 digital transformation trends for 2021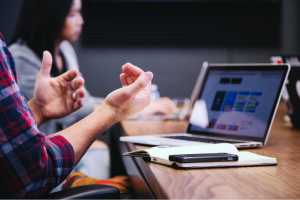 Thanks to the pandemic, digital transformation has rocketed in 2020. Organisations around the globe have turned to technology to help them become more resilient, increase agility and remain competitive against the unprecedented challenges of operating through a pandemic.   
According to a recent survey by the Cloud Industry Forum, 55% of businesses have increased cloud adoption as a direct result of Covid-19, with 88% of organisations reporting that they expect their adoption of cloud services to grow over the next 12 months. Presenting businesses with better business continuity, facilitating remote working and offering easier scalability, it's no wonder cloud looks set to fuel growth in 2021.  
Here are four key digital transformation trends to watch out for in the next 12 months.  
1. Permanent remote working
Although remote working has been on the rise for the last few years, many businesses were unprepared to roll out WFH for their entire organisation overnight. But, once we all got used to it, remote working proved to be somewhat of a revelation for many. In fact, according to CIF's research, 56% of businesses reported that Covid-19 had positively impacted them because it had introduced more flexible working.  
Moving into 2021 then, the focus for organisations will be on how to maximise the potential of WFH, putting formal flexible working strategies in place and seeking technology to help facilitate permanent, seamless remote working. With staff and employers alike recognising the potential benefits of working from home, the way we work looks set to be forever changed.  
Yet, four in ten businesses have concerns over the security of the reactive solutions they put in place at the start of the pandemic. Considering the financial and reputational repercussions of any breach of data security, it's imperative that organisations ensure they have robust, highly secure remote access available for staff working from home.  
2. Hybrid 
and multi-c
loud
Even before the pandemic hit, hybrid cloud looked set to be the future of cloud infrastructure. Over the last year, the value of agility and scalability has been further highlighted, as those with more flexible infrastructure found themselves better placed to deal with the sudden disruption.  
When it came to surviving the pandemic, 91% of IT decision makers reported that cloud played an important role in their response. Over the next 12 months organisations planning to move into the cloud will need to consider how best to leverage technology to deliver optimum value and performance. For many, this may mean being selective about which workloads are moved into the cloud, combining public cloud resource with existing on-prem infrastructure to create a hybrid solution.  
The beauty of cloud is the freedom to move individual workloads and applications to the most appropriate platform. We expect to see businesses mix and match the high performance and security of private cloud with the high scalability and cost effectiveness of public cloud, to create a bespoke hybrid cloud tailored to their specific needs.  
This is where a managed cloud provider offering both private and public cloud services becomes invaluable. Not only will they be able to advise on which workloads are best suited to which platforms, but they have the expertise to architect efficient solutions and provide ongoing support. For those considering leveraging the huge scalability provided by the hyperscalers such as AWS and Azure, it's important to look for a cloud partner accredited to architect on these platforms. Working with a managed cloud partner rather than directly with a hyperscaler guarantees more personal support, often with faster response times.  
3. Greener hosting services
2021 looks set to be the year where businesses consolidate their efforts to evaluate their impact on the environment. A rising concern for consumers, people want to shop and work with greener businesses. According to Accenture, 44% of CEOs envisage a net-zero carbon future for their business within the next ten years.  
This is expected to have an impact on the uptake of cloud services, which have the potential to help organisations reduce their carbon footprint. Accenture reports that migrations to the public cloud can reduce CO2 emissions by 59 million tonnes per year. But partnering with just any cloud provider won't achieve this – it's important to assess the service provider's green credentials.  
At UKFast, we're PAS 2060 certified – making us the first carbon neutral hosting company in the UK, with 100% carbon neutral offices and data centres and 100% carbon neutral hosting solutions. 
4. Omnichannel retailing
Throughout the pandemic, businesses have needed to be available online more than ever, and this trend looks set to stay. Consumers are now accustomed to online shopping on a much larger scale, and more confident with seeking information and services on the web. Post-pandemic, operating online and providing an omnichannel experience will remain vital for any organisation hoping to succeed among fierce competition.  
The ability to meet this new demand, remain online at all times, and provide a reliable service that customers can depend upon, will require businesses to evaluate their current web hosting solutions. In 2020 we've seen many traditionally brick–and–mortar retailers expanding their online offerings, notably M&S investing in their website and eCommerce facilities.  
With the high street struggling, a high performing eCommerce website has never been more important for retailers. Over the next 12 months, expect to see businesses investing in web expansion, improving services and virtual offerings to help them compete in the post-pandemic retail environment.  
Ready to take on 2021? Find out how managed cloud from UKFast prepares your business for the year ahead and beyond.