Revealed: Most popular eCommerce platforms of the last decade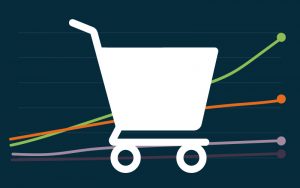 We live in a fascinating time for the eCommerce sector. With modern devices and technologies making it easier than ever to buy and sell online, the sector is seeing unprecedented growth. eCommerce's share of overall retail saw five years of growth in the first six months of 2020.
If you want to stand out against your eCommerce competitors, you need to choose the right eCommerce technology to power your website. You might know all the key players, but how do they measure up against each other? Who's doing well and why is that the case?
A popularity contest isn't going to help much when it comes to choosing which eCommerce offering is right for you, but perhaps you're curious to see how your favourite platform has performed.
We were interested to find out which eCommerce platforms were the most popular, so we hatched a plan to find out.
eCommerce platforms by Wikipedia pageviews
Firstly, we looked at the number of pageviews that each eCommerce platform's page had been getting on Wikipedia.
However, we wanted to back this up with another source, so we decided to use BuiltWith. BuiltWith's web crawler keeps detailed records of how many live websites are using each of the top eCommerce technologies dating back to 2011.
eCommerce technology usage in BuiltWith's top 1 million sites
BuiltWith's eCommerce technology usage drilldown
Who are the winners?
Magento, WooCommerce and Shopify are the three most popular eCommerce technologies in the key categories of top 10k, top 100k and top one million. These categories account for the highest traffic sites and include some of the biggest brands in the world, so these platforms are a great place to start your search.
WooCommerce is a banker
The WordPress content management system accounts for an incredible 40% of the top one million sites, so it's not too hard to imagine why WooCommerce, WordPress's go-to eCommerce plugin, has a comfortable lead over its rivals in the field.
WooCommerce is popular for two main reasons. Firstly, it's open source, which means that developers can get under the bonnet and make whatever modifications they need to the code without the added expenses and restrictions that come with proprietary software. The other reason is that it's remarkably easy to use and manage.
WordPress has been around for so long that it's amassed an impressively large developer community. Through collective effort, WordPress users have access to tens of thousands of pre-built themes and plugins, many of which are free to use and easy to install. This reduces the knowledge overhead even further, making it highly accessible to users without any prior coding knowledge.
There is an abundance of talented WordPress developers available too, making it quick and cheap to build a site on WordPress. In fact, if you were a developer in a typical small-to-medium-sized web design or development agency, it wouldn't be unusual to work on dozens, possibly hundreds, of WooCommerce sites.
These factors explain why WooCommerce is an attractive eCommerce platform for agencies and web developers who need to offer affordable eCommerce websites to their clients.
Magento; the hot enterprise pick
Magento has a lot of similarities to WooCommerce. It has a large community, providing a wide choice of high-quality developers and agencies. It also offers creative freedom and high customisation by being self-hosted and open source, unless you opt for their hosted Enterprise plan (which accounts for only a small fraction of the total Magento users).
The Magento platform differs from WooCommerce because of what it can offer to larger stores. Magento possesses clear superiority when it comes to managing larger product catalogues, promotions, payments, orders and shipping. Furthermore, Magento offers more support for multi-language, multi-region, B2B eCommerce and API integration.
A lot of these features are built-in, which means you don't have as much of a dependency on third-party plugins as WooCommerce. This has a big impact on security, as you're less likely to be plagued by decommissioned plugins with exploitable vulnerabilities.
The catch with Magento websites is that they can be significantly more expensive and require more technical knowledge than WooCommerce. For a shop with a relatively small product catalogue, WooCommerce might provide better value. But for businesses with larger product catalogues or growing businesses in need of a more scalable solution, Magento is likely to be a better long-term investment.
Is Magento starting to falter?
Magento has long been the preferred option for SMEs and enterprise businesses. But more and more alternatives are starting to enter the marketplace.
Among others, Shopify, BigCommerce and Squarespace offer enterprise-friendly platforms which are, by comparison, much easier to use. Magento's proposition is not as irresistible as it used to be, and we can see the tougher competition taking a bigger share of their bread-and-butter enterprise customers.
Magento's image has also been slightly tarnished since the growth of mobile commerce. Around the time of 'Mobilegeddon' in April 2015, the earlier generation of Magento sites were criticised for being notoriously sluggish and having poor mobile usability. The arrival of the updated Magento 2 platform fixed many of these problems, but by then, Magento was no longer as trendy as some of the other fresh-faced hosted platforms.
However, Magento remains a solid eCommerce solution, with plenty more options for customisation than hosted platforms.
Shopify from rank outsider to shoo-in
According to Shopify, it had just 35,000 worldwide merchants in 2012. Fast-forward to October 2019, and it had surpassed one million.
Easy to use and quick to pick up, Shopify takes care of a lot of the tedious technical tasks for its users, so you have more time to manage the commercial side of your website.
But what caused Shopify to gain popularity so fast? Well, in the last couple of years it started getting lots of media coverage. It launched a massive brand campaign including television, radio and out-of-home, making it a household name in the US. Another huge factor was probably the 'celebrity effect'. Shopify has become the go-to eCommerce platform for celebrities and huge brands such as Tesla, Lindt, David Beckham, Drake, Lady Gaga, Kylie Jenner and Adele.
Shopify certainly has the makings of a great mainstream platform. It looks the part, has great usability and makes day-to-day management easy for busy entrepreneurs. Its Shopify Plus plan also has enterprise-level capabilities, including automation support and scalable infrastructure, that can handle very high traffic and over 10,000 transactions a day.
The catch with Shopify is that users will never have full ownership of their website, and there are certain built-in boilerplates and quirks which you won't be able to change no matter how hard you try. It's also impossible to part ways with Shopify and take your website with you, as it's propriety software, unlike open source.
Ones to watch
It's clear that WooCommerce, Magento and Shopify had the best of the last decade. But who else should we be keeping an eye on in the coming years?
Salesforce Commerce Cloud (previously known as Demandware) – an enterprise platform that's been around for a while but seems to be rallying under the Salesforce banner. In recent years, Salesforce have gone from strength to strength, managing to onboard a range of prestige brands such as Asda and Marks and Spencer.
Squarespace – a successful hosted platform which has been running ambitious marketing campaigns in the last few years, including a Super Bowl 2020 big game ad starring Winona Ryder. However, it's not primarily an eCommerce platform, which means that up until now it hasn't been able to challenge Shopify.
None of the above – certain industry experts are predicting that social commerce will be the biggest winner in the years to come. Gartner reported that top department stores are quickest to adopt shoppable pages on social media, with 100% adoption on Instagram and 41% adoption on Facebook.
Do you need help choosing the right platform for your business? Perhaps you're an agency who need a reliable partner to host your projects? Get in touch today.