Peak Season 2020: Are you ready for Black Friday?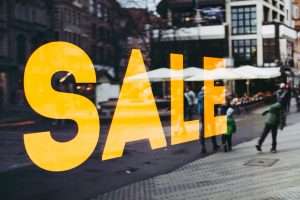 Earlier this month we reported that Covid-19 has acted as a catalyst for digital transformation, with businesses across the globe turning to their online channels to boost sales while footfall in their brick-and-mortar stores is down. With Black Friday looming, competition for online sales is set to be hotter than ever and, in the middle of a recession, there's a lot at stake this year.  
So how will reduced footfall and increased online shopping affect your eCommerce strategy this cyber-weekend?  
Falling footfall
When non-essential shops reopened in June, footfall began to steadily increase, but store visits remained below typical levels. By October, footfall had decreased to below 70% of the average for the time of year. And now, as we approach peak season, the government have announced a new lockdown period of at least four weeks, during which time all non-essential stores must close.
Even those classed as essential retailers will have their battles during the next few weeks. It's no surprise that, with the current rise in Covid-19 cases, anxiety levels are up. According to recent figures on the pandemic from the Office of National Statistics (ONS), a third of adults (33%) are experiencing high anxiety levels, and this figure rose to 40% among adults with a health condition. This is naturally having an impact on customer confidence levels. Despite the rigorous safety precautions put in place across most retail stores, many customers will simply feel more comfortable shopping and browsing online, from the safety of their own homes.
On top of this, 70% of high street retailers have been required to limit the number of customers they can allow into their stores at any given time in order to comply with government safety regulations. Although precautions like this might help to attract some people back to physical stores, for many, the prospect of long outdoor queues during a British winter is enough reason to conduct their shopping from their sofas.
The rise of online shopping
During the first peak of the pandemic, spending shifted online, and many customers are now more likely than ever to continue to shop online.  
ONS research shows at the height of restrictions in April 2020, retail sales fell by a quarter and while overall sales have largely recovered, in–store sales are still nearly 10% down. However, online sales are up by nearly half on the start of the year, proving that people still have money to spend. 
The figures show that in September, retail sales volumes increased by 1.5% when compared with August, making it the fifth consecutive month of growth. Sales within non-store retailing were 36.6% higher than in February, showing that consumers have continued to carry out much of their shopping online. 
In October, 39% of UK consumers said they were delaying big purchases as a result of the economic uncertainty brought about by the pandemic. Yet, 43% reported that they would jump at the chance to bag themselves a bargain, revealing they would buy a non-essential item today if it seemed like a good deal. This bodes well for Black Friday sales.  
Shop early, shop safer
Earlier this month, the British Retail Consortium (BRC) launched its 'Shop early, Start wrapping, Enjoy Christmas' campaign, urging UK shoppers to protect others by avoiding the festive rush. The campaign aims to encourage consumers to spread their shopping from now until Christmas, to prevent the traditional mass of last-minute shoppers.  
If successful, retailers should be prepared for a steady stream of shoppers over the next two months.  
Perfect your peak preparations
Perfect your peak preparations
So, how can you make sure your website is ready to take an online-first approach to Black Friday 2020? With physical stores closed, online traffic is set to be at an all-time-high this cyber weekend.
Prepare for the

rush

.

Ensure your site can be scaled up to meet the demand of

the

unprecedented

traffic

predicted for this year

. Use load testing to run site simulations

and predict potential performance issues before they happen. You can then

optimise

site performance using results-driven insight

.

Prioritise

security.

Cyber-threats

increase in frequency over the

peak period

,

with

surges of

attacks such as ransomware and DDoS

. With the threat of downtime or a data breach very real, it's crucial to make sure your website is patched, up to date and protected with robust security measures

to keep the hackers at bay.

Communication is key.

Keep customer frustration at bay

with clear, relevant information at the point of sale

. With higher traffic

, items can be expected to sell out more quickly

so en

sure your messaging is prepared to let customers know about unavailability

. A

nd don't forget aftercare

– manage

delivery expectations

with

clear, concise follow-up emails

.
Worried about your site security? Explore Threat Vision, our suite of robust security solutions:
Download our peak season toolkit for more advice about how to prepare for this unprecedented peak season.