Digital transformations: The Covid catalyst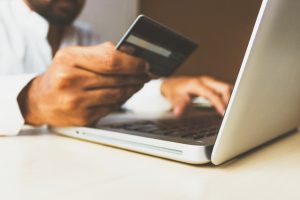 Even before the pandemic hit, we were living in an increasingly digital world. The next generation are digitally savvy in a way many of us couldn't have imagined in our youth, and the trajectory for that growth already seemed set to an impressive pace.  
But the unwelcome arrival of Covid-19 has undoubtedly acted as a catalyst for digitisation. In homes across the world, grandparents have learned to Zoom call their nearest and dearest, and even the most avid of high street shoppers have become au fait with the art of online shopping.  
Huge change has happened in the business world too. We've seen cloud technology play a starring role in the shift to remote working – but many organisations haven't stopped there. The pandemic has driven wider digital transformation, with businesses expanding their online presence or turning to innovation in order to remain viable during this unprecedented situation.  
Move 
online or miss out
The UK's footfall has dropped below 70% of the average for this time of year. Although non-essential retailers have been reopened for several weeks, customers remain cautious about the safety, and necessity, of visiting physical stores.   
At the peak of lockdown when these retailers were forced to shut up shop, those without any online presence understandably suffered the hardest. Primark went from making £650m a month to nothing at all. And, while its reopening saw long queues of shoppers once again eager to snag a bargain from their favourite affordable clothing store, in-store sales have failed to catch up with pre-pandemic levels. 
Throughout retail, sales made in-store remain on average 10% down – although online sales are up by almost 50% compared to the start of the year.  
A boost to eCommerce
Those retailers who were already online, and able to keep up with the surge in demand, saw better business continuity. Fashion group N Brown reported that 92% of revenue came via its eCommerce channels in Q2, up from 85% at the end of February 2020.  
In the grocery world, most of the UK's biggest supermarkets quickly increased home delivery slots to accommodate the sudden demand. As an online only retailer, Ocado was uniquely set up to cope with the shift brought about by the pandemic – as has been proved by its success over the last few months. In the six months up to the end of May 2020 Ocado reported a 27% growth in revenue and, between then and the end of August, sales surged by 52%.  
Planning for the future
At the other end of the spectrum, Aldi reported that its lack of online presence held back growth in 2020. Traditionally, its limited online offering has acted to protect their competitive price points but now, with many customers set to continue shopping online even after the pandemic is over, Aldi has acknowledged it may be time to reassess. It recently revealed plans to address how it can cater to the demand of online shopping in the future.  
Among sectors that have previously struggled to gain customer confidence online, swift response has been required. The beauty industry, for example, relies heavily on a customer's physical interaction with the products, so innovation has been paramount during the pandemic. Through services like their virtual try-on technology, L'Oreal were able to capitalise on the situation, shifting advertising spend to promote online services.  
Pre-purchase content has proven to be key. With the removal of the physical shopping experience, customers are more reliant on product descriptions, images, videos and an enriched online journey. Recognising this, M&S invested in revamping its online offering, improving content and shifting its marketing activity to be more digitally focused. Along with teaming up with Ocado to offer grocery delivery services, M&S also announced plans to cut 7000 store and management jobs following the shift.  
Accelerated transformations
It's not only eCommerce that has felt the pressure to adapt. The effects of the pandemic have been universal – 96% of enterprise decision makers have revealed their digital transformation plans have been accelerated by Covid-19.  
Between continued remote working and a permanent uplift in online shopping, there will be lasting change after the pandemic is over. Now is the time for businesses to look at overcoming any barriers to transformation and invest in future-proofing their online presence. 
Discover how UKFast's eCommerce hosting solutions provide speed, security and scalability to help your business thrive now, and in the future.