Comparing colocation and managed web hosting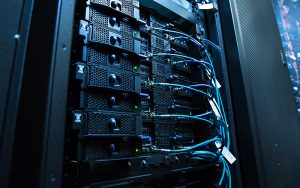 For businesses that rely on the power and performance of dedicated servers, one of the biggest choices they face when setting up infrastructure is whether to choose colocation or managed web hosting. Both options provide an off-premises solution, offering greater scalability, security and cost-effectiveness than on-prem servers.  
The main difference between colocation and managed web hosting? It all comes down to control.  
What is managed hosting?
In this scenario you lease a dedicated server from a hosting provider – it lives in their data centre and they own the hardware. There are many advantages to this, not least of all that you benefit from the hosting provider's enhanced connectivity and bandwidth. The vendor's data centres are purpose-built for the task of housing large numbers of these servers, with cooling facilities, fire protection and video surveillance typically part of the design.  
Managed data centres offer your business 100% uptime, with backup generators and an in-house team of engineers on–hand in case of emergency. Housing servers off-premises improves your data security – disaster is unlikely to strike in two places at once. If your place of business suffers a flood, for example, you can rest assured that all your essential applications and business-critical data is safe and secure in the data centre.  
With managed web hosting, you forgo the initial outlay of purchasing hardware outright. Simply lease what you require from the vendor and scale up your solution if you need to add more resource as your business grows. On top of this, you don't have to factor in in-house IT expertise. Any updates, patching or other maintenance is the remit of the hosting provider you choose, so choose wisely to make sure you get the 24/7/365 support you need.  
What is colocation?
The biggest difference between managed hosting and colocation is the ownership of the hardware. When you choose colocation, your business houses your own servers within a vendor's data centre. This removes the need for you to find a space (either on your premises or elsewhere) and kit it out with the necessary equipment to host your infrastructure – generators, UPS (backup power) systems, sufficient bandwidth etc. Housing your servers off-premises removes the cost of power to run the hardware, passing these responsibilities to your chosen hosting provider.  
Once your equipment is settled into its new, environment-controlled suite, you retain complete ownership and control. With full access, you'll need your own engineers to look after your infrastructure – although many data centres usually have an engineering team available if you require occasional support.  
There's also scope for scalability with colocation, as opposed to an on-prem solution where you may be limited by the amount of space you have available or the additional costs of running extra servers. If you choose to colocate you can lease more space at any time – you just need to purchase the additional hardware.  
So, to recap…
Managed 
web 
hosting:
Rent a dedicated server from 

a vendor

 

They 

continue to

 own the server, you control the content and build

 

Th

e

 vendor provides 

24/7 expert support

 

All

 updates and maintenance

 

are

 carried out by the managed provider

 
Colocation:
Rent space in a data centre 

 

House

 your own infrastructure in 

a 

purpose-built, environment-controlled suite

 

You f

ully own and control your hardware with access to the data 

centre

 

You remain responsible for 

all 

maintenance

 
Which is right for your business?
Both scenarios allow you to take advantage of the hosting provider's better bandwidth and connectivity. And both give you a dedicated server solution with dedicated compute, scope for scalability and protection against downtime. The option to house infrastructure in one or multiple off-premises locations also offers additional security and better protection in a disaster recovery situation. Choosing a vendor with data centres across the country, and even overseas, can also help you to offer better performance to international customers where your business operates globally.  
The deciding factor comes down to how much control you require over your solution.  
If you need further advice about which hosting solution is right for your business, speak to one of our expert solutions architects today on 
0800 954 8225.
Learn more about UKFast's ultra-secure, highly connected and wholly owned data centres.