Accelerated adoption: Covid and the cloud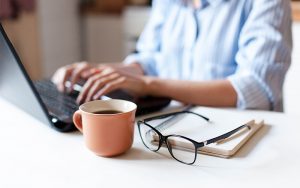 By now, we're all too familiar with the ways in which Covid-19 has changed our lives, shifting the way we work and limiting social activities. For many businesses, the ability to be agile and responsive during the pandemic has meant the difference between survival and failure.  
With the need to facilitate remote working and collaboration, cloud computing has had a major role to play, but that's not where the need for an accelerated digital transformation ends.  
The cloud trajectory
Before the pandemic (if you can still remember a time before the pandemic), cloud adoption was already en route for huge growth. In the last two years alone, the average cloud budget has grown by 59%, as businesses dedicate more of their IT spending to cloud-based infrastructure and applications.  
According to the IDG Cloud Computing Survey, by early 2020, 81% of businesses reported they were already at least partially using cloud infrastructure or had applications in the cloud. Amongst those surveyed, 59% predicted that within the next 18 months they would move further away from on-premises solutions and be mostly, or 100%, in the cloud. At the time of the survey, only 35% of organisations reported their solutions were mostly or fully cloud based.  
It's clear, therefore, that the benefits of transitioning to the cloud are widely recognised – from affordability to scalability. And, while it's evident that many businesses already had the intention to increase their use of virtualised resources over the next year or so, the arrival of a global pandemic has acted as a catalyst for this process, forcing organisations to transform, or risk falling behind.  
The rise of remote working
Perhaps the most widespread transition that has occurred over the last six months is the uptake of remote working. At the peak of the pandemic, almost half of UK adults reported they had been working from home. This required a massive organisational shift for which many businesses had never prepared. Suddenly, the UK's workforce needed to access files and applications from anywhere, while maintaining the same efficiency of communication they had achieved in the office. 
According to figures from JPMorgan, as workers began setting up in spare rooms and on kitchen tables, the daily usage of Zoom rocketed by 300%. While some of this additional traffic can be attributed to socialisation and a sudden spike in virtual quizzes (remember that stage of lockdown?), Microsoft Teams also reported adding 12 million new users in a single week. The need to collaborate remotely with colleagues has driven growth of software as a service (SaaS) as businesses turned to subscription-based services rather than on-premises licenses.  
According to Gartner, desktop as a service (DaaS) platforms are expected to see growth of 95% year on year between 2020 and 2021 as a result of the pandemic. Solutions like FastDesk from UKFast have allowed teams secure access to their desktops and applications so that business can continue as normal, even when the situation feels far from normal.  
Transform or 
trail 
behind
While some industries have been disproportionately hit by the Covid-19 crisis, almost all businesses have had to react and realign their strategies in order to stay afloat. Along with the many restrictions the pandemic has placed on how and where we work, we have also had to contend with an overwhelming surge in cybercrime, as hackers seek to capitalise on the situation. According to 80% of business executives, investing in cybersecurity and cloud computing has played a key role in the survival of their organisations.  
In order to compete in a post-Covid world, businesses will need to work smarter than ever before. In a recent survey, 59% of businesses said the pandemic had created greater urgency to drive their digital transformation forward. Accelerating existing plans, 56% reported that cloud migration was now deemed essential. With the UK officially in recession for the first time in 11 years, budgets are under additional strain. Adopting cloud technologies also means reducing CapEx and freeing up money that can be reinvested elsewhere in the business. 
If migrating to the cloud is the next digitally transformative step for your business, there really is no time like the present. 
Find out how cloud hosting with UKFast digitally transforms your business.