IaaS, PaaS or SaaS? Choosing the Right Cloud Service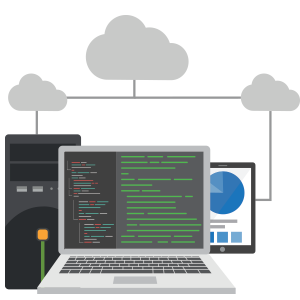 If you're not familiar with the language of cloud, it can be difficult to understand how IaaS, PaaS or SaaS can benefit your business. It also makes it more challenging to choose the best option for you. The main differences between these solutions lie in the split of management responsibilities; each offers a different balance of what is managed on-premises by yourselves, and what is outsourced to your cloud vendor.
Which solution you need will depend on the specific requirements of your organisation, but let's start with some simple definitions.  
What is 
infrastructure as a service (
IaaS
)
?
To understand what's provided by IaaS, you first need to have a good grasp of what infrastructure is. Infrastructure refers to all your servers, computers, hard drives, routers and the wires that connect them – everything that makes up the foundation of your IT service. Infrastructure has three basic components: compute, network and storage.  
If you own your infrastructure and keep it in a physical location within your offices, this is what is referred to as 'on-premises infrastructure'. In this scenario you fully manage your own IT services, with maintenance carried out by your employees and any rescaling of the system requiring the purchase of additional resources.  
The alternative to this is infrastructure in the cloud – which is where IaaS comes in. Infrastructure as a service provides virtualised compute, network and storage. Your cloud vendor will host the physical infrastructure in one or more of their data centres and  offer your business virtual machines and resource in the cloud. 
With IaaS, the management of your infrastructure becomes the responsibility of your service provider. There is no maintenance required on your premises, and no expensive outlay for the infrastructure. Additionally, as your business grows the resource can be scaled accordingly without the need to buy additional hardware.  
What is
 platform as a service (
PaaS
)
?
Choosing PaaS means that not only is your infrastructure accessed via the cloud, but also your operating systems and development tools. This removes the need to buy development tools outright and simplifies web app development. Your dev teams can build apps in a web browser which they can access remotely from anywhere in the world – handy if you have teams in different locations.  
PaaS can be used across every stage of application development, from building and testing to deployment and management. Without the need to buy, set up or manage new tools, PaaS often means apps can be built more quickly. Your in-house teams continue to look after the applications and services that you develop, but the cloud provider will manage everything else.  
What is 
software as a service (
SaaS
)
?
SaaS is software hosted and accessed within the cloud (examples include Microsoft Office 365 or Sage). Rather than needing to buy software outright and install applications onto each required device, SaaS offers a more flexible approach. All software and hardware is managed by the cloud service provider – so everything covered by IaaS and PaaS, along with the management of applications.  
All app data is stored in the cloud, meaning teams can log in from anywhere, on any device, and access everything they need. SaaS solutions are scalable, and you only pay for what you use so they can often be more cost effective too. Your vendor carries out any updates, eliminating the need for in-house IT support resources.  
Choosing your cloud service
These three different types of cloud solutions, IaaS, PaaS and SaaS, offer differing levels of service. If you're unsure where to begin, our solutions architects  help to tailor and build the right cloud solution for your unique business requirements.  
Speak to one of our cloud specialists today on 0208 045 4953 to get started.