Planning for an unprecedented peak season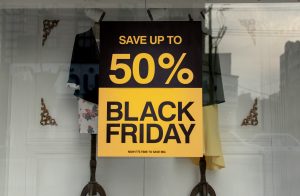 Is it ever too early to start peak-season planning? Year on year, Black Friday grows in popularity in the UK, with only 8% of people saying that they avoid the event altogether. Each year we talk about making sure your eCommerce site is ready for the influx of visitors and transactions, but 2020 is bound to feel a little different. How do you plan for peak period during a pandemic? 
A bleak Black Friday?
The trends are easy to see. In 2019 sales across Black Friday and Cyber Monday were up 7.2% on the previous year. Bargain–seeking shoppers once again favoured looking online for their deals, rather than visiting physical shops – footfall on Black Friday has decreased every year since 2015. Last year 77% of shoppers planned to head online to find the best deals, and of those heading to stores, 51% planned to research online before stepping out the door. All of this points to one clear conclusion – to be best prepared for peak, it's time to invest in your website and make sure it's ready to withstand the traffic. Downtime during peak is an eCommerce business' worst nightmare.  
But the unwelcome arrival of Covid-19 means that the reality of Black Friday may look very different this year. At the time of writing, lockdown measures across the UK are slowly starting to ease, although the number of shoppers allowed in–store at any one time is still restricted. We would all like to hope that by the end of November, the level of infection will have continued to reduce to a point that will make it safe to return to life as normal – but it's already evident that the high street will never be the same again. 
The new normal
Announcements of store closures have run in parallel with reports of the progress of the pandemic. No business has remained untouched, and the effects have taken hold amongst even the most established of brands. In the week of writing, John Lewis has announced that eight UK stores will close, putting 1300 jobs at risk. The repercussions have been felt across the high street, with Primark, who have no platform for online sales, revealing the pandemic has caused them an £800m loss – although they have no plans to transform their business model to facilitate eCommerce.  
For some, the surge in online sales caused by the lockdown has acted as a catalyst for digital transformation. Marks and Spencer recently announced plans to grow its online capabilities with a site expansion and, whilst Boots has announced redundancies across stores and head office, it plans to expand its online offering.  
For companies experiencing an unprecedented surge in online demand during the strictest weeks of lockdown, the repercussions of a website that was not built with a scalable model have been obvious. B&Q and Wickes were particularly affected, as home improvements became top of everyone's agenda. Wait times upwards of an hour were experienced by some customers – and with demand outpacing website capabilities, there was huge potential for lost sales. 
Planning for the
unprecedented
It seems sensible, therefore, to prepare for a peak season where shoppers may still feel hesitant to physically visit a shop, or where in-store capacity remains limited. Although the economy has taken a huge hit from Covid, there are still positive movements to be seen. According to Essential Retail, while overall sales are down, UK online sales surged by 102.6% in June.  
This shift will have benefitted those whose eCommerce operations were already optimised to deal with the uplift in demand. But, for anyone who found themselves less prepared, it may prove to be the catalyst for digital transformation – accelerating any plans to optimise their online capabilities. The pandemic has served to further establish the trend towards online shopping and smart companies will now prioritise the optimisation of their websites to provide a robust eCommerce platform.  
The future of eCommerce
Whilst many shoppers will want to return to their old habits as soon as possible, many people will now be more likely to order online in the future. Prior to the pandemic just 16% of over 65s shopped online once a week – but 43% of this age group, most at risk from the virus, have transitioned to online shopping since restrictions began.  
To make sure you don't get left behind, you need to make sure your website is ready – not just for Black Friday or Cyber Monday but for the future of eCommerce. The first step? Speak to your hosting provider about scaling up your site to meet the new demand and make sure you're avoiding these six common mistakes when peak season arrives.  
Get Peak Season prepared with our Toolkit of resources for the cyber-weekend 2020.