Why DR must be business as usual
If the Covid-19 pandemic has taught us anything, it's that businesses need to be prepared for everything. Failing to put in place a disaster recovery (DR) plan that accounts for every possible situation risks downtime, loss of data, damage to your reputation and, ultimately, the future of your business. Rather than an act of compliance, we need to begin to treat DR as BAU, making it an integral part of everyday operations.  A backup plan shouldn't be viewed as a "just in case" plan, it should be viewed as a competitive business strategy. 
Our latest webinar delves further into the importance of DR in business, and the implications of failing to plan for failover.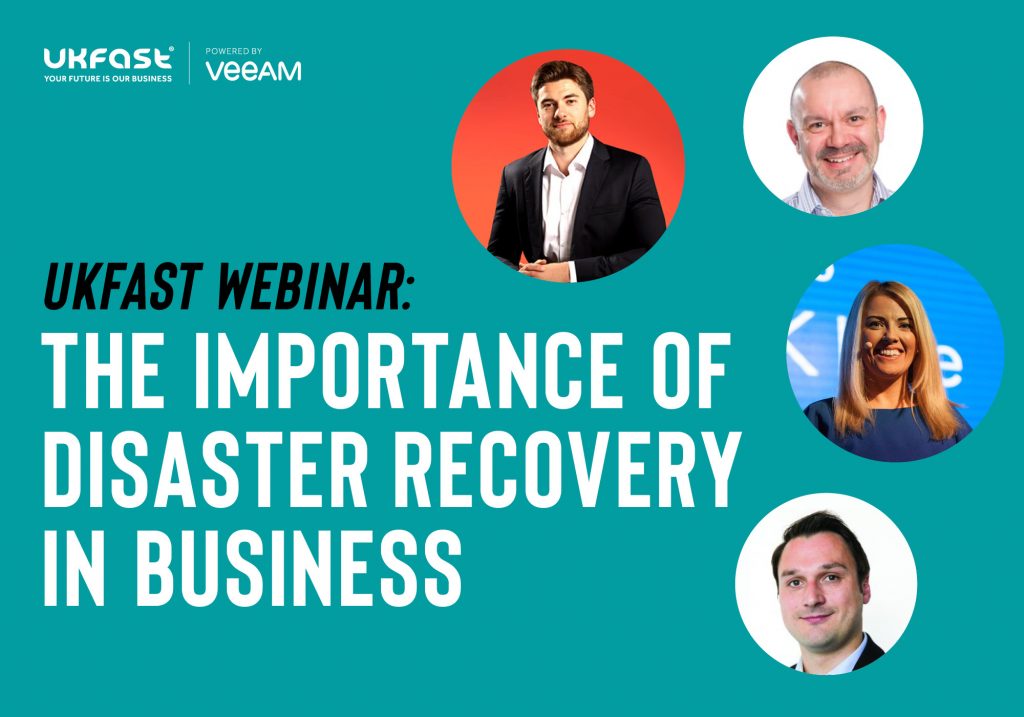 We were joined by:
Host: Arlene Bulfin, Director of Training and Education, UKFast 
Nick Furnell, UK Cloud SE, Veeam 
Anthony Holland, VP of Architecture, UKFast 
William Pullman, Commercial Director, UKFast 
A plan for every eventuality
Too often DR is seen as being limited to servers and infrastructure. Instead, businesses need to realise that recovering from a disaster of any nature requires a multifaceted approach. The human element of business continuity needs to be planned, so that every eventuality is considered and prepared for.  
A disaster situation doesn't always mean a fire, flood or other natural disaster. A lack of access to your premises or a power/water failure incident on the same business park has the same potential to disrupt your day-to-day operations.  
The best DR plans cover a broad range of scenarios. Think about how you would cope if you were unable to access your office at all, if your data centre went down, or simply if your CEO couldn't get in. Sometimes the issue is a person that's not available, rather than a site.  
Build a business continuity team
DR therefore needs to consider and touch every part of an organisation. It's easy to overlook a certain system application, or even a department, that doesn't seem particularly vulnerable – or necessarily critical in an emergency – but every area has the potential to be affected. Communication is key – both internal and external.  
The best way to achieve this is to put together a business continuity planning team that's made up of representatives from every department. Putting you in the best possible position, this ensures no area is overlooked. 'Everyone can make recommendations to protect their areas' advises Anthony Holland, UKFast VP of Architecture. 'People need to be front and centre. The tools are critical, but people make it happen.' 
It's important to see a disaster of any scale as more than just a technical problem. Crisis comms should be a priority, ensuring employees, customers and clients are kept up to date.  
Testing your disaster recovery plan
No matter how busy you are, testing your DR plan once a year will never be enough. Internal processes change, departments may shift during the year, new staff may join. Your operations need to be constantly assessed, and your DR plan adapted, if you want to be sure you're prepared for every eventuality.  
'It should be like testing fire alarms' says Nick Furnell from Veeam. Carried out with regularity and thoroughly tested for a range of scenarios, only then will your DR plan be fit for purpose. He acknowledges that the disruption associated with testing a disaster recovery plan may make some people nervous about making it an integral part of everyday business, but the plan is only effective if you know it will work.  
Developments in disaster recovery as a service (DRaaS) solutions have made DR testing considerably less hassle. 'DRaaS demonstrates how far DR has come' explains Holland. With data replicated and stored in the cloud on VMs that remain dormant until failover is required, DRaaS provides a lot more flexibility than traditional DR solutions. Providing the option to bring online one VM or the full solution, tests can be carried out with minimal disruption to end users. Find out more about why tech teams are choosing DRaaS in our previous blog here.  
Failover and data recovery
One of the biggest considerations when choosing a DR solution is how frequently to replicate your data. Data loss can be broad – from a single email to hundreds of files – and the repercussions can be catastrophic. The problem historically has been that investing in cold standby has been too expensive for many SMEs.  
Will Pullman, UKFast Commercial Director, explains how DRaaS has opened up DR to a much wider range of organisations: 'It's exciting to be able to provide a solution that requires a small monthly service fee so you can scale up and failover when you need to. And only when you failover do you start paying for it. You only see the costs when you're in disaster – and when you're in disaster you're going to want to stay online'. 
Working together, UKFast and Veeam have created a DRaaS solution that makes it easy to make DR part of BAU. Furnell says: 'It's about ease of use – being able to test and be confident that when you press the big red button that it's going to work. We pride ourselves on the processes and the services that we have in place.' 
Tune in to watch the full webinar here. 
Find out how DRaaS makes your DR planning easy and effective.