DR vs Backups: What's the difference?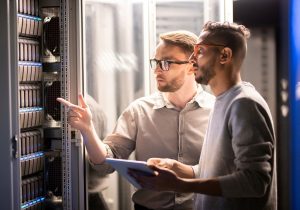 Disaster recovery and backup are terms often misused when it comes to making sure you have a business continuity plan for your organisation. Maybe you take care to back up your data each evening. Perhaps you even store that backup off site to keep it extra safe. Whilst this is good practice and will make sure that you're able to restore historical data in an emergency, it's important to recognise that backup and disaster recovery are not interchangeable.  
What is backup?
Human error, system failure, cyber-threats, natural disaster – there are any number of potential situations that can result in downtime and/or data loss for an organisation. The financial implications of losing critical data are impossible to ignore – from lost sales and limited staff productivity to potential fines associated with GDPR breaches.  
No matter the size of the enterprise, creating a backup is essential to ensure data is preserved in case something goes wrong. A backup is a copy of your data, usually taken at least once a day and ideally stored off site. This reduces the risk that a disaster situation could affect your primary infrastructure and your backup at two physical locations.  
Even if a backup is created at the end of each day, you have the potential to lose critical data in a disaster situation. It's important to know your business' recovery point objective (RPO) which will tell you, in a measure of time, how much data you can afford to lose before your operations are critically affected. Find out more about calculating your recovery point objective (RPO) and recovery time objective (RTO) in our previous blog here.  
Where time is of the essence, restoring your data from a backup may prove to be problematic. If the backup is stored elsewhere, it will need to be retrieved before restoration can even begin. Any data generated since the last backup will be lost and, without a full DR plan in place, it can be hard to predict how long it will take to restore the critical systems on which your operations depend. It's all well and good to have a copy of your historical data, but your backup can't be restored if your systems are still down.  
DR and business continuity
A tried and tested DR plan is the only way to know with certainty that your RPO and RTO can be met in a disaster situation. Forming part of your overarching business continuity plan (BCP), this will give you a comprehensive set of actions to take if the worst should happen. Disaster recovery is the process of planning and implementing the restoration of any applications, systems and infrastructure on which your core operations depend. The aim is to minimise downtime, protecting revenue and reputation.  
Disaster recovery can be achieved via a variety of solutions but has traditionally required investment in additional infrastructure, often at a separate location or data centre, to allow for failover until primary systems can be restored. The cost implications of this have historically meant DR has been inaccessible to many SMEs. Instead, small and medium–sized businesses have favoured backup alone, often believing it to be the cheaper option. What they fail to consider are the costs associated with data loss and prolonged downtime; increasing investment in DR solutions may prove much more cost effective in the long term.  
How
DRaaS
help
s
Providing a solution that doesn't require huge setup costs, disaster recovery as a service (DRaaS) makes DR accessible and hassle free. Data is replicated and stored in the cloud, with all infrastructure and maintenance managed by the provider. Flexible, scalable and easy to budget for, DRaaS makes the most demanding of RPOs and RTOs achievable. Find out more about how DRaaS works here.
Find out how DRaaS revolutionises your DR strategy.