What is Disaster Recovery as a Service?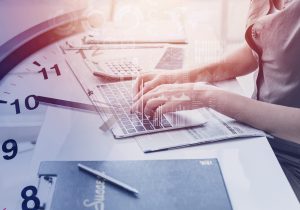 In its simplest form, disaster recovery as a service (DRaaS) is a cloud-based DR solution. Historically, traditional DR methods have required considerable investment in additional hardware or the outsourcing of an always-on DR service in order to ensure business continuity in the event of a disaster. This disaster itself can take many forms but essentially, it's any event which renders your critical systems inaccessible (whether that be power failure, cyber-attack, file corruption or natural disaster etc).  
The cost implications alone have meant that, until recently, DR solutions have been accessible only to larger enterprises, with many small and medium businesses forced to rely on less efficient, less reliable methods.  
DRaaS offers flexibility, scalability and a model that's easy to budget for, providing an accessible DR solution for any business.  
Limitations
of
traditional DR
When you create your business' DR plan, you'll set an RPO and RTO that you need to meet in the event of a disaster. If you can only afford to lose minimal data, and you need your systems restored in less than an hour, traditional DR solutions will prove expensive. In order to meet your objectives, you would need to back up your data almost constantly and have the hardware and tech resource on hand to carry out a complete system restore immediately after a disaster. Both processes are manual and so require time from your tech team, not to mention the cost of investing in the additional hardware and its maintenance.  
This type of solution is also inconvenient and time-consuming to test, as your team would have to perform the manual failover of your data, potentially travel to your second site to recover that data and then restore the underlying architecture once the test is over. As a result, the efficiency of such solutions can be unknown until a real disaster inevitably occurs. The good news is that when data loss and slow recovery speed can't be tolerated, DRaaS provides the perfect solution.  
How does
DRaaS
work?
Disaster recovery as a service replicates and stores your business-critical data in the cloud on virtual machines (VMs). These VMs exist in a dormant state within your DRaaS platform until a disaster occurs and failover is required – in which case the VMs are activated (powered up). Whilst dormant, they consume storage resource only, as opposed to traditional DR solutions where compute, storage and RAM are consumed, and paid for, around the clock – even if the hardware sits unused most of the time.  
Generally, your DRaaS provider will charge a standing fee for the replication and storage of your dormant VMs and then bill per hour of activation during a failover situation e.g. a real disaster or DR testing.  
Security and data loss prevention
You can set the VMs to replicate your data as often as your business requires it – and the frequency can be altered at any time, which is particularly beneficial if your RPO changes seasonally, for example.* Potential data loss brings with it a whole host of cost implications for your business – from lost revenue to fines for GDPR breaches.  
With a DRaaS solution, not only is your data replicated in line with your identified RPO, you also have the peace of mind that it's stored securely. Expert support will always be on hand, ensuring infrastructure is maintained, updated, patched and protected from common security threats without needing input from your own IT team.  
*DRaaS solutions usually allow replication of data up to every ten minutes or so. If your business needs absolute-zero downtime and cannot afford to lose even a minute of data, it's worth considering an active-active DR solution such as metro storage clustering .
Testing and a
ctivating failover
With the freedom to spin up a dormant VM at any point, DRaaS also offers a really easy way to carry out regular DR testing. Being able to identify and rectify any issues is key to achieving your most effective disaster recovery plan. Failover is automated and stress-free, eliminating the need for the solution to be managed or restored by your IT team.  
When disaster strikes, failing over can be as simple as a few clicks in an online portal. Once the VMs are brought into an active state, you can retrieve your data and bring back online any applications on which core operations depend. Many DRaaS solutions can do all of this in less than an hour.   
Why tech teams choose DRaaS
DRaaS solutions enable you to achieve low RPO and RTO, preventing data loss in a disaster situation and making sure your core operations are resumed as soon as possible. In case you missed it, find out what our VP of Architecture, Anthony Holland has to say about why tech teams are choosing DRaaS. You can also sign up for our free webinar on DRaaS here. 
Discover how DRaaS can help you create the best DR plan for your business.