#BacktoBasics: Dedicated Servers and Cloud Hosting
If you're stuck on deciding whether a cloud hosting solution or dedicated server is right for you, why not give our committed team of highly qualified experts a call now on 0800 458 4545? We're positive we can find the perfect solution for your business.
Trying to work out whether a dedicated server or cloud hosting solution is best for your business?
Well, in this blog we're exploring the differences between the two, and why each solution is a great fit for different intensities of workload.
Dedicated servers
A dedicated server is a server that is purchased entirely for your business' needs, owned and managed by the provider. It can be configured to the application you wish to host, such as a website or database.
Dedicated servers are mainly chosen by large companies that have very specific requirements needing an exclusive environment, or those that have intense workloads. For example, many companies that work with high compute workloads such as AI technology or gaming.
These servers are also very customisable from the get go. In terms of hardware, there's many combinations of compute, storage and memory. You can also order your SSDs into a RAID set and there's options out there for NAS or block SAN storage, if that's what you're after. On the software side of things, it's also up to you what you do and don't install. This includes deciding which operating systems, control panels and applications are best suited for the role your server has to play.
Dedicated servers allow for a customisable journey and the ability to pool servers for increased performance or scalability – a common hobby of huge enterprises. However, being configured to the application you're wanting to run on it, e.g. your website, means that you're probably only using a small portion of your resources. So, there's the potential that you're paying for more resource than you're using and this is where the idea of virtualisation and cloud comes in.
Cloud hosting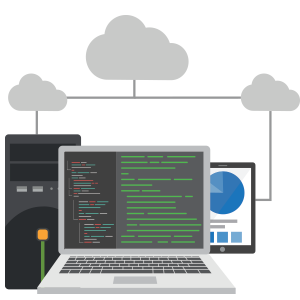 From a structural perspective, the main difference between dedicated servers and cloud servers is virtualisation. Virtual machines (VMs) are deployed within your cloud solution to serve different purposes. For example, you may want your site to run on one VM, your backups on another, databases on another and so on. It allows you to take the same server and cut it up into lots of functional pieces, meaning you make the most of your resources.
Similar to dedicated servers, cloud servers are configured to meet the required levels of performance, security and control. Cloud also allows you to optimise performance without the huge costs of a purchasing and managing the required infrastructure. This makes it perfect for variable business demands and workloads, which encapsulates a huge range of businesses and is one of the reasons we've seen such rapid and widespread adoption of cloud over recent years.
Cloud hosting options, like UKFast's eCloud® range, also allow you to be more flexible and scalable without the need to arrange for additional hardware to be added into the solution. You can even get specialised add-ons to your platform, like eCloud® Burst, which allow you to automate and optimise the scalability of your solution.
The only thing that would perhaps make you consider dedicated over cloud is the concept of contention and 'noisy neighbours'. Occasionally for public cloud environments, demand for resources can exceed supply and this makes it a potential battle for excess resources. However, cloud providers like UKFast operate their public platforms at nowhere near maximum capacity and use a blend of public and private cloud offerings to mitigate the risk of noisy neighbours.
How do I decide?
It is worth noting that you can also blend dedicated server and cloud solutions to achieve the right combination of equipment for your business.
To make the decision that bit simpler, at UKFast we have a committed team of highly qualified experts who take the time to assess which option is right for you and your business' needs.
So, If you're still not sure which option is right for you, why not give us a call now on 0800 458 4545? We're positive we can find the perfect solution for your business.
Speak to a hosting expert today and find the perfect solution for your business. Call us on 0800 458 4545 or request a call back now.