Three Ways to Increase January Motivation
Whether you're suffering from Christmas light withdrawal, a lack of refined sugary treats or are on the third day of recovery after the excitement of Christmas and New Year's Eve festivities, it's easy to feel sluggish and in need of some workplace January motivation!
January holds a whole host of new opportunities so let's set ourselves up to beat the New Year Blues and get that momentum back on track!
1.       Value your colleagues and employees
Did you know that, according to Lifeworks, 76% of of employees who don't feel valued at work are seeking other job opportunities?
Interestingly, however, the term undervalued doesn't just refer to pay. The feelings of being forgotten, overlooked and underpraised are big players for many people who are unhappy at work.
It's natural to need a bit of reassurance from time to time so, next time someone does a great job, let them know! Positivity is contagious, and great feedback encourages people to continue working hard and feel like they are a valued part of your workforce.
2.       Encourage development and goal setting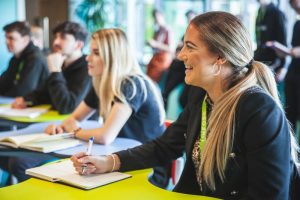 Another front runner in employee dissatisfaction is lack of progression, which is why we're huge advocates for development at UKFast.
As the saying goes; you're either growing or you're dying, and the same applies in business. That's why at the start of each year, our teams set time aside to get together and discuss their professional and personal goals for the next 12 months. From an individual perspective, the act of writing down goals and sharing them with your team is a fantastic way to solidify your aims and get ideas of how to achieve them. From a team point of view, sharing goals inspires the whole group and creates a supportive environment. It's a win-win.
3.       Stay connected and communicate
Now, we're not asking you to share your deepest, darkest secrets. But taking the time to check in regularly with your team goes a long way to building strong working relationships and shows that you care about your employees beyond the office.
From our first-hand experience, investing time in getting to know one another on a personal level builds trust, empathy and a greater sense of community and belonging for everyone involved. And when everyone feels supported and connected this makes for a happy team, not just for January but for the whole year.
In the next four, most notoriously miserable, weeks of the calendar, it's important we work together to maintain a healthy working environment and support those around us.
Are you looking for a new opportunity in 2020? Explore UKFast Careers today – you could be our next superstar.