Web Application Firewalls: What You Should Know
Using a web application firewall (WAF) has become a staple for any organisation conscious about its cybersecurity. And for good reason.
The abundance of insecure coding practices creates a wealth of vulnerabilities in the code of web-based apps. Combine this with the fact that the majority of tasks in our lives are run by these types of applications, and it makes for a tempting opportunity for hackers.
As a result, web-based attacks such as SQL injection, cross-site scripting (XSS) and WordPress exploits continue to rise each year. From 2017 to 2018 alone, SQL injections in particular rose a staggering 267%.
How does a WAF work?
Web application firewalls protect your web applications from common exploits that may affect the confidentiality, integrity or availability (see the CIA triad) of your data. They sit in front of your applications, monitoring, detecting and preventing web-based attacks.
A WAF blocks attacks on your website, web-based apps and the web server infrastructure itself. This ability to defend a number of areas of your solution means WAFs have become essential for in-depth security strategies.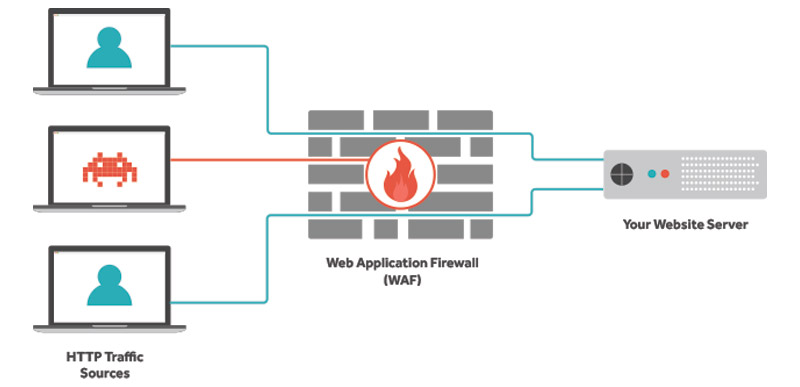 The WAF is able to block attacks based on the definition of rule sets. For each WAF, you can create custom rules to block certain attack patterns, such as SQL injections or XSS, and rules that are designed for your specific application. With some WAFs, new rules can also be deployed in a few minutes, enabling you to respond quickly to changing traffic patterns.
Advantages of a WAF
Protection from web-based attacks
The main reason organisations purchase a web application firewall is to strengthen their defence against web-based attacks like those mentioned above. Depending on the rule sets you create, your WAF can filter web requests based on IP addresses, HTTP headers, HTTP body, URL strings and much more.
Easy deployment and maintenance
A UKFast WAF allows for easy deployment and maintenance. Managed through the MyUKFast portal, it updates regularly, quickly and easily to protect against the latest threats without developer intervention.
Improved web traffic visibility
A UKFast WAF also proactively monitors and observes your genuine traffic. It allows you to program it to monitoring mode, look at what would have been blocked and then tailor the rule sets to your solution.  You also receive reports of your web traffic and can access or export your event logs directly through MyUKFast.
WAFs and PCI compliance
PCI DSS 3.2.1 6.6 states: 'Public-facing web applications are primary targets for attackers, and poorly coded web applications provide an easy path for attackers to gain access to sensitive data and systems. The requirement for reviewing applications or installing web application firewalls is intended to reduce the number of compromises on public-facing web applications due to poor coding or application management practices.'
Installing a properly configured and maintained WAF, therefore, can help with achieving PCI DSS requirement 6.6. For more on best practices for maintaining PCI DSS compliance, be sure to check out the official documentation.
Why not speak to our security experts now and see just how easy it is to get started with your UKFast WAF today?
Call us on 0800 231 5917.
Check out UKFast's dedicated and DDoS-protected WAF options now.