#BacktoBasics: Shared vs. Dedicated Cloud Hosting
If you're stuck on deciding whether a shared or dedicated cloud hosting solution is best for your business, then why not give our highly qualified experts a call now on 0800 458 4545?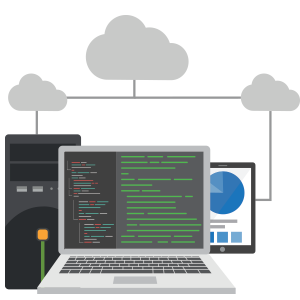 Selecting the right type of hosting solution for your business can seem daunting. With so many different solutions and providers to choose from, sometimes it's difficult to decide which option really is best for your business' needs.
In this #BacktoBasics blog, we're breaking down shared and dedicated cloud hosting, so you can distinguish which type of solution is better suited to your organisation.
What is shared cloud hosting?
Shared hosting or public cloud hosting is a service whereby physical servers are segmented into multiple virtual servers. The resources of these virtual servers are then dedicated to you. The cost saving of sharing the resources of a larger server – such as storage, processing power, and memory and disk space – makes this option more economically viable and popular amongst small businesses.
It is worth noting that although the underlying resources are shared, there is no way to directly access virtual servers from other users unless this is allowed through a firewall.
Shared hosting is perfect for small to medium businesses that have light to average web traffic, who don't require intricate, bespoke server configurations. Public clouds are also ideal for startups because, as your business grows, you can adapt your hosting environment with ease to ensure scalability and agility.
For example, platforms such as UKFast's eCloud Public® allow you to develop your business through a high-performance, secure hosting solution, while taking advantage of the cost savings presented by public cloud options. An eCloud Public server can be deployed in minutes, is easy to manage and effortlessly scalable, so you can focus on growing your business.
With the ability to scale your vCPU, RAM and storage up and down as you need, eCloud Public also gives you complete control from your dedicated MyUKFast control panel, where you can manage everything from support to billing.
What is dedicated cloud hosting?
Dedicated cloud hosting or private cloud hosting  is one or multiple physical servers that have dedicated resources specifically for you. Absolutely everything, from the hardware to the network connection, is dedicated to you.
This hosting option cuts the 'noisy neighbour' issue that shared hosting brings in the competition for resources, meaning all the resources can be used to power your website and applications.
Compared with shared hosting, dedicated hosting can be more costly as you pay for the dedicated resource, as well as the expertise to maintain it. This type of service is ideal for those with higher performance or strict security requirements. Dedicated hosting allows for complex customisation and for specialist applications to be run.
UKFast's eCloud Private® for example, is built on world-class technology for the ultimate in performance, with Cisco UCS blades which allow for simple, fast migration and online resource expansion.
eCloud Private is only available from UKFast and is fully managed and supported 24/7/365 by UK-based expert engineers. Optimised for performance with dedicated resource connected into our 1.6Tbps network, your dedicated server is fast, highly secure and completely scalable.
Why not give eCloud Public® a try? Call us now on 0800 458 4545 to receive a FREE trial for eCloud Public or request a call back.