5 Digital Awards Your Business Needs to Enter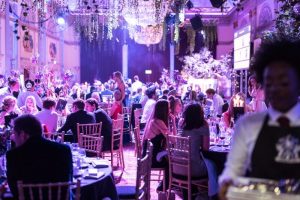 So many businesses are hesitant when it comes to entering for an award. However, the process of entering, being shortlisted and even maybe winning presents a huge opportunity. Whether it's growing your brand, developing company relationships or demonstrating to customers that you're the among the best in your field.
The Digital Entrepreneur Awards, in partnership with UKFast, have a fantastic array of awards for your business to choose from. (And if you want to check out all 20 available you can do so here!)
Today, we've put together five awards that we think are ideal for your business to enter.
Let's take a look.
Best Mobile App
There are more than 2.7 billion smartphone users across the globe, and we spend 90% of our mobile time on apps. New for the DEAs 2019, this award recognises those taking full advantage of the booming mobile application marketplace.
Is your business developing an innovative application to advance in the market? Is your application generating an impressive amount of income or making your users' lives easier? If you're making waves in your industry, we want to hear about it!
Social Media Campaign of the Year
Nowadays, it's unusual to find people that do not have at least one social media account. It's become one of the biggest platforms on earth and presents incredible opportunities for businesses large and small.
For this award, we're looking for campaigns and everyday practices that display a sophisticated understanding of social media communication. Statistics on volume, interaction and audience success will help you stand out in the judges' eyes. How creatively has your approach impacted on website traffic, customer experience and the bottom line?
Digital Business of the Year
What's your business doing above and beyond the rest?
Our judges want to see a clear indication of success. This award is not about an individual piece of work but a consistency throughout the year and a collective entrepreneurial approach to business. It is as much about the company's relationship with digital as it is the successful projects themselves.
We want to hear about the exceptional achievements that make you the DEA Digital Business of the year!
AI Innovation Award
The use of AI and machine learning (ML) is picking up speed across all industries. How is your business capitalising on this technology?
This award is for those who have the creativity and innovation to leverage AI and ML, to advance the user experience and drive business performance. However you're using this tech, our judges want to hear all about it!
eCommerce Developer of the Year
Are you the developer or development team behind some of the web's most successful eCommerce sites? Our judges are looking for outstanding architects of the web. Those who consistently enable their clients' eCommerce platforms to deliver high-volume sales, whilst providing an excellent end- user experience.
Developers, it's time to get the recognition you deserve!
Check out all the categories available to enter now!