What's Driving the Online Marketplace Trend?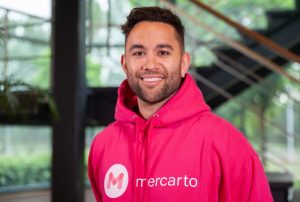 In this blog, we're joined by Alex Ayin, Executive Director of Sales and Marketing at Mercarto Enterprise Technologies to find out what's driving the recent surge in online marketplace popularity.
Mercarto is a successful online marketplace business based in Manchester. The company helps businesses build their own marketplaces and facilitates the capture of new revenue through sales commission.
What are Alex's thoughts on the growing online marketplace trend?
What is an online marketplace?
Within the eCommerce landscape, the term "marketplace" has risen to the forefront of conversation this year, as we start to see the impact of a monumental shift in consumer behaviour.
In simple terms, it is a form of eCommerce site, powered from the outside-in by buyers and sellers (supply and demand). Products or services are provided by third parties or suppliers to the platform and transactions are processed by the marketplace operator.
Companies often start small, for example, eBay initially focused on collectables. An inherent network effect grows these websites at a rapid rate. The more people selling and buying on the platform, the more value it has. (This process of highly engaged audiences following a hugely scalable business model is known as a virtuous cycle or the flywheel effect.)
Why are marketplaces taking off across industries?
These technology-driven business models are redefining the future of industries all over the world. The top 15 public platforms already represent £2.1 trillion in market capitalisation worldwide. Revenues on marketplaces are predicted to double from £15.1m in 2017, to £32.3m in 2022. For the freelance sector, niche marketplaces are creating new business streams which meet the rising trend of consumer personalisation.
The opportunity for third-party selling online has never been greater for both retail products and the service industry. Fashion alone has seen a drastic rise in this trend, with apparel now at 49% of the total resales market with rising businesses such as Rebag for luxury handbags, exploding out of nowhere.
Why build your own marketplace?
Over the last few years, consumer habits have shifted from scrolling several sites to find their desired item. Now, 66% of shoppers carry out half of their eCommerce spending through online marketplaces, according to a Forrester Research study.
There are several reasons why this type of multi-channel eCommerce is here to stay. Including:
Convenience
Competitive prices
Flexible shipping options
Ability to compare and explore a wide assortment of products and services
Discovering new retailers
However, the increasing dominance of juggernaut platforms such as eBay, GroupOn and Amazon have led to excessive commission rates of 38%+ on each transaction This means that suppliers or brands may only take away 30% from the total retail price.
Furthermore, the two biggest challenges for eCommerce today are trust and discoverability. In a world of infinite choice and a growing distrust for brands, forward-thinking eCommerce players are expanding their online marketplaces. They are providing buyers with more specialised choice and product/service categories, beyond their traditional core business. This is to ensure that customers can get recommendations, reviews and all of their online purchases all in one place.
To take advantage of the growing popularity of this streamlined approach to eCommerce, we are seeing a shift in strategy from traditional retail businesses also. Many are adapting their strategies effectively to either compete with, create their own or participate with the current marketplaces.
My prediction for the future of marketplaces
The next decade will see eCommerce become the default platform for all aspects of buying and selling, from consumer to business and government. Building the future of your industry now through marketplace technology will ensure you stay at the forefront of change and consumer behaviour for years to come.
Want to read more expert insight on a range of cool topics? Check out our range of guest blogs now!