Work Experience: Sophia's UKFast Story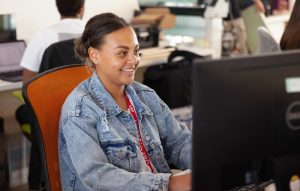 Work experience can be a daunting prospect. However, at UKFast we like to give those who dare to venture into the world of work a taste of excitement, and an idea of what it's like being part of a fast-paced tech business.
The latest addition to our cohort of work experiencers is Sophia. And in today's blog she's here to share her thoughts on her time in the UKFast Communications team.
Over to you, Sophia!
*
Having heard so many positive things about UKFast, I was super excited to gain valuable work experience and see for myself what it was like to work at Manchester's fastest-growing tech company. So, I undertook a two week communications placement and absolutely loved it!
First impressions
On my first day, I was taken to UKFast's Monday Morning Meeting where I was able to witness the individuality of the business.
The fun team talk had music playing out whilst everyone took their seats in the auditorium. All of the superstars from the previous week were mentioned and congratulated, work anniversaries were acknowledged and qualifications achieved by people all over the business were given a shout out.
Having done work experience in other businesses before my placement at UKFast, all I can say is that being here has been breath of fresh air! There's no gloomy Monday feeling. Instead, only pure excitement and enthusiasm. Everyone has the same bubbly and chatty personality and I've felt comfortable and excited to come in every day.
The UKFast Campus
When I arrived, UKFast teacher Tom gave me a tour of the Campus which I have one word for: AMAZING.
The whole place is full of colour and positive energy. Everyone who walked past me said Hello and straight away I felt as if I wanted to stay here forever! They have a gym, a games room, sleep pods and even a beach in the carpark. I was introduced to all of the different teams in the building and was in shock about how big the UKFast team is. I was then taken to the Communications department where I met the lovely team, who have taken amazing care of me.
You don't have to be a techie to be at UKFast
As I am currently an English Literature student, I was sceptical about coming to an IT company for work experience, as tech isn't my strong point. However, I was completely wrong. After one week I understood that, at UKFast, the communications and marketing departments are just as important to the business as the technology side.
During my two weeks of experience, I've written news stories for the UKFast website. I've helped the team research topics for the weekly whitepapers and written lots of different content like blogs and social posts. I've become a part of the business and feel as if my ability has been used to the maximum.
Even though I started my placement not having a lot of knowledge on things like GDPR or cybersecurity, I'm leaving my placement knowing these topics and even being confident enough to write news stories on them!
At UKFast, I haven't just felt like a 'work experience student', I feel like I've actually joined the communications team. Having my stories published on the UKFast website, going to lunch with my team every day or simply going to the bar on a Friday, are all the reasons why I've loved my time here.
Other people on my degree could not wait for their work placement to end. But I'm the exact opposite – I couldn't wait to ask to come back. Though I've only been at UKFast for a short period, I've found the type of career I would like to enter and hopefully I can continue to grow my experience with a brilliant company.
Do you want to be part of Manchester's fastest growing tech company? Check out our vacancies now and apply today!