FASTdesk: Remote Working Just Got Easier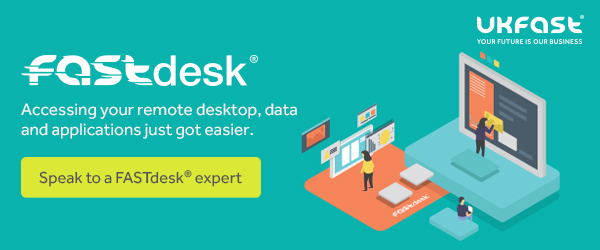 Nowadays, the ability to work both in and away from the office is a deal breaker when it comes to accepting a new role. As technology has evolved to be flexible, fast-paced and always available, it makes sense that we now expect this of our work lives too.
In fact, experts predict that 50% of the UK's workforce will be working remotely by the end of 2019! So, wouldn't it be great if there was a service out there that could make this possible for your business?
Well, UKFast's remote desktop service, FASTdesk, gives you instant access to your entire office desktop, from anywhere at any time. Here's four reasons why  remote working with FASTdesk works for your business.
1. Significant cost savings
Fixed per-month pricing for this desktop-as-a-service solution keeps your costs predictable. This eradicates the need to invest a huge upfront sum for hardware, management and a skilled IT team. FASTdesk enables for robust continuity and disaster recovery, opening up your sessions where you left off and eliminating the headache of investing in additional BCP or DR solutions.
2. A secure approach
Often, the main issue with on-premise systems is that if your machines or server are compromised, all of your data is gone. What would that mean for your business?
With only 10-20% of business keeping their on-premise systems up to date, cloud is proving to be more reliable at keeping our data safe. Adopting cloud means that your data is stored in the cloud and is fully backed up, not to mention it's supported by a team especially trained to keep your data safe and secure.
With FASTdesk, your data is only ever stored in UKFast's ISO-certified and PCI-compliant  data centres. From a technical perspective, the process of remote working through FASTdesk means that your data is encrypted not only from the cloud to your device but also inside your device. So, it cannot be intercepted and compromised at any point in its journey.
3. Increased efficiency and productivity
Its time to forget in-house server rooms and costly IT infrastructure. With FASTdesk you don't need to worry about individual PC upgrades or cross device software barriers, simply log in to your FASTdesk desktop and get to work.
Our dedicated team of FASTdesk experts will get started on your solution straight away. They'll support you throughout the entire migration process, keeping your stress levels to a minimum! Once you're up and running, you'll experience end-to-end support and the ability to add new users in just 15 minutes. Its that easy!
4. Improved flexibility
On a beach, at home, on the train or a quiet corner in the office? With FASTdesk, you can pop open any device and access your remote desktop in an instant. You're in control, you change the channel.
FASTdesk gives you the opportunity to store your software, databases and desktop applications in the cloud so that you can access them through your devices at any time, from anywhere. When you bring together your desktop and your databases in the same place the speed and agility of working is massively improved….no more wheel of doom!
And it's not just employees that want flexible hours; consumers expect businesses to be available outside of the usual nine to five. In our 'want it now' world, consumers need quick responses and around-the-clock availability – something that realistically can only be achieved with a truly flexible working day.
What's more, when you plug into FASTdesk, UKFast's award-winning support team becomes an extension of your business. And with fixed monthly prices, the cost savings to your business are mind blowing.
Experience the perfect working environment today. Call us now.
Claim your 30-day FREE trial of FASTdesk now!