What is UKFast? 10 Things You Should Know
If you google UKFast, you'll immediately see that we specialise in dedicated and cloud hosting. And if you go through our social feeds, you'll no doubt see many posts involving dogs (like Marshall who you can see here), slides, volunteering, crazy events and plenty of tech blogs.
But that doesn't really answer the question 'What is UKFast?'.
So, in this blog we're setting the record straight. Here are 10 facts about UKFast that will get you up to speed on who we are and what we do.
1.      We're a cloud hosting company
The first thing you need to know about UKFast is that cloud hosting is our 'bread and butter'. Startups, big businesses and public sector organisations alike outsource the hosting of their websites, applications, desktops and more to our secure, high-performance servers. And as much as we'd love to run through cloud hosting, that's a whole other blog. So, moving swiftly on.
2.      20 years in the business
That's right. In 1999, UKFast began in the back bedroom of a tiny flat just off Manchester's Oxford road. Since then, UKFast has grown from a two-person startup to a multi-million pound business with more than 400 employees and an awesome Campus that we call home.
3.      Powering the world's biggest brands
From Rebellious Fashion to the NHS, UKFast hosts the business-critical infrastructure of some of the world's biggest organisations. We're incredibly proud to continually expand our client base and keep some of the most popular sites on the web up and running!
4.      24/7/365 support guaranteed
Our outstanding 24/7/365 support is what sets us apart from any other hosting provider. Unlike other providers, there's no exceptions when it comes to our support. Whether it's the middle of the night or Christmas Day, we're here when you need us. What's more, our 'three rings and you're in' policy means we answer your call within three rings, every time.
5.      Security is a top priority
The security of our clients' businesses is something we take very seriously. Our wide range of security solutions has evolved with the ever-changing landscape of cybercrime, so we protect our clients to the best of our ability. And, with ultra-secure, exclusively UK-based data centres, we ensure 100% data sovereignty.
6.      Invested in innovation
Innovation is one of our core values and we love being at the forefront of industry firsts. One quarter of our profits each year is invested into researching and developing cutting-edge technology, so we're always meeting the changing needs of our clients.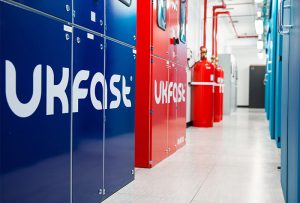 7.      Designed and built in house
Why trawl through dozens of off-the-shelf cloud solutions, which don't meet your unique hosting requirements, when you can have a solution that delivers exactly what you want? Our in-house solutions architects design and build your bespoke solution, providing the performance, security and availability your organisation needs to thrive.
8.      Partnered with industry leaders
Now, we don't like to name drop, but we work with some serious tech titans including Intel, HPE, Cisco and VMware. We're also a Microsoft Gold Partner, Cisco Powered and Cloud Builder Partner, and a Red Hat Hosting Partner. Plus, as a Linux Professional Institute (LPI) Partner, we're the only LPI Gold Approved Training Partner in the North of England.
9.      We've got the happiest clients in the industry
We use the Net Promotor Score to measure the satisfaction of our clients, and every single day we're ranked nine times higher than average – the best in our entire industry! UKFast's unique pod system means you have your own account manager who knows your business, supported by a dedicated pod of expert engineers who know your solution.
10. Purpose-built, UK-based data centres
Our five UK-based data centres are owned entirely by us, and purpose built to keep your data ultra-secure. PCI-compliant and approved to ISO standards, our data centres provide the highest standards of security, as well as incredible connectivity, availability and resilience. With UKFast, 100% network uptime is guaranteed.
Want to find out more? Explore our homepage and our wide range of services now!