HPE Primera Beta Testing: Here's What We Found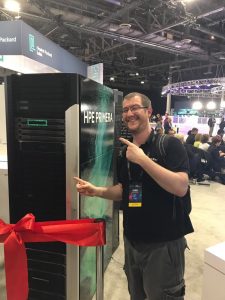 Over the past few months, UKFast has been in the process of beta testing the new storage array from Hewlett Packard Enterprise, HPE Primera.
UKFast's Director of Enterprise Technologies fills us in on his recent trip to Las Vegas, where he attended HPE Discover 2019 and presented UKFast's findings on this exciting new technology.
What is HPE Primera?
"HPE Primera is the new, cutting-edge storage array being released by HPE that's set to replace the 3 PAR product line that we currently use at UKFast. Designed to be super-fast and reliable, it's enterprise-grade SSD storage and is similar to the storage arrays that all of our cloud products are based on. So, it made perfect sense to get involved with the beta testing process."
Why was UKFast chosen to test HPE Primera?
"UKFast was chosen as one of the global beta testers for the project because we're currently a large user of HPE 3 PAR arrays. We're also a long-standing HPE partner with a history of product innovation. We use a large number of other storage arrays across our services so we were able to benchmark the new tech against existing kit.
"UKFast has years of in-house experience when it comes to testing. We're known for testing rigorously (and often breaking storage during tests) so we just saw how far we could take the product until it snapped.
"We like being in partnership with HPE because being an early adopter means we can feed into how the product works and be part of the process of fine tuning this product and making sure it's perfect for our own customers."
What happened at HPE Discover?
"I was incredibly excited about this new piece of tech so to be able to talk about it to a large audience was brilliant!
"HPE presented a tech session on HPE Primera and I was brought in at the end, as a customer case study, to take part in a discussion about its pros and cons. I was also involved in answering questions from the wider audience and providing detailed insight from the tests we had carried out."
What's the verdict from UKFast?
"The primary reason we've been testing the platform is because it's been designed from the ground up to be incredibly resilient. It's very much the type of product we like to incorporate into our services.
"The existing 3 PAR currently being used on our platforms is incredibly resilient, but the new generation adds a lot of capabilities. It allows for very fast users' serviceable upgrades – so we can have narrower maintenance windows for our customers, increase our responsiveness to issues that arise, increase performance and throughput and advanced analytics capabilities. It also gives us a lot more assurance for the future because it allows for transparent and non-disruptive hardware upgrades during the product's life-cycle.
"In conclusion, we really like HPE Primera. It's simple to use, well designed and more seamless to upgrade than other arrays. It's a lot faster too, so as storage demand increases we don't have to compromise on performance.
"Overall, it's a pretty cool piece of tech."
Find out more about the tech that makes eCloud one of the most versatile, secure and reliable cloud hosting platforms in the industry.