Unlocked Speaker Talks Cyber-Threat Evolution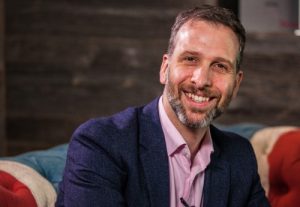 Would free insight and advice from industry-leading cybersecurity experts be useful for your business?
Unlocked is the UK's biggest FREE cybersecurity event and is coming to Manchester and London on the 17th and 24th July 2019.
Find out more about why you need to attend Unlocked 2019 >
To give you a taster of the specialist insight that will be shared at Unlocked London and Unlocked Manchester, today we're catching up with expert speaker Jonathan Bowers to discuss the evolution of cyber-threats.
Jonathan Bowers is Managing Director of Enterprise at UKFast and sees first-hand the devastating impact cyber-attacks and weak security measures have on all types of businesses. He supports thousands of UKFast clients with the implementation of robust security. From startups to enterprises, Jonathan is perfectly placed to advise businesses on how to remain secure.
What's Jonathan's view on the evolution of cybercrime?
DDoS attacks
"First of all, DDoS attacks have been steadily increasing in number and severity over the past decade, and have become particularly prevalent in the last three years or so.
"What's changed over the last few years is that people can get hold of ready-to-deploy DDoS attacks very easily. They can buy them on the internet just like you'd buy a pair of shoes. The barrier to entry for carrying out large-scale DDoS attacks has been lowered. This is why we're seeing more and more organisations hit by these types of attack.
"To keep up with the worrying trend, UKFast has invested a huge amount of time developing its DDoS protection network DDoSx®. A lot of our clients now use this network as a standard part of their cybersecurity strategy to protect their businesses from DDoS attacks."
Cryptolocker
"Cryptolocker has also been evolving in recent years. Historically, this type of threat would include somebody in your organisation clicking on a link in a phishing email. This would then download some form of malware or virus to their computer, which allows the hacker to gain access to your central systems. Once inside your central systems, the hacker can then lock down your resources and request a ransom for them to be released.
"In this instance, backups are essential for recovering resources and rebuilding your systems without having to pay the ransom. However, hackers have caught onto this and evolved to get around this solution. Now, they're also working out how to corrupt your backups so you've got nothing to fall back on."
More opportunities for hackers
"With the majority of businesses now utilising technology, hackers are finding more opportunities to target businesses. In particular, vulnerabilities in your own databases and third-party software are the most common weaknesses hackers exploit to infiltrate your systems.
"Despite the headlines reporting some really big data breaches and cyber-attacks due to software and third-party vulnerabilities, many businesses still aren't ensuring their systems are patched and up to date.
"The more you test your systems and improve them, the more you can safeguard your business against this type of threat. It's not always about being completely bullet proof – just being too hard for the attackers to bother."
With all that in mind, why are events like Unlocked so important?
"As always with cybercrime, once you've found a way to defend against a certain attack, cybercriminals are also thinking of more efficient ways to target your business. The best way to counteract this is to educate everyone in your team, implement effective training and continuously raise security awareness. And this is where events like Unlocked are invaluable.
"Unlocked is an amazing opportunity to get expert knowledge on all the topics you should be aware of right now. To get up to date on the most common threats to your business and what you can do to protect against them.
"Ultimately, if you've got the relevant knowledge, you're in a much better position to be able to protect your business."
UPDATE: Unlocked London is now FULLY BOOKED! So be sure to reserve your place for Unlocked Manchester now to avoid disappointment and get the chance to hear from incredible speakers including Jonathan.
Join us at Unlocked on 17th July and 24th July in Manchester and London!