CTO's Update: UKFast Network Changes
It's been a busy first half of 2019 for our networking team here at UKFast. Their mission to make some huge changes to our network will be completed in the coming weeks and we're excited to be able to share the news with our clients.
So, what changes are being made and how do they affect the thousands of businesses operating on the UKFast network?
We caught up with our CTO Neil to get his expert insight on the matter.
Why make the change?
"At the end of last year we made a decision to take a real in-depth look into our network infrastructure. We needed to identify any risks we were facing, understand how to mitigate them and formulate a plan for achieving this.
"But we didn't just want to make a few upgrades to the existing network design that would only work short term. We're always looking for ways to make our service for clients better, faster and more resilient, so we wanted to significantly improve the entire network design for the next stage of our growth."
Transit and Peering Connections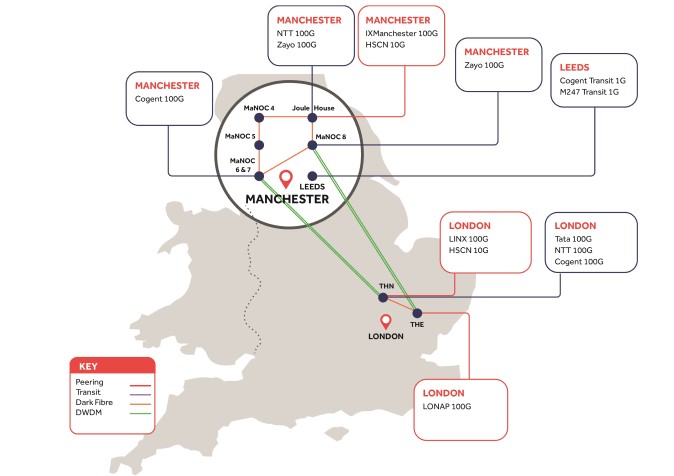 "The main changes are to our Points of Presence (POPs) and overall network capacity. Previously, we had two core POPs, each with two peering and two transit connections. Now, we're taking the whole network and increasing the number of POPs to five. The benefit to you is that this increases the overall resilience for the network and in effect takes us to N+4.
"At the same time it made sense to also increase the capacity of each POP significantly. Before this work, each POP had around 30Gb of capacity but as part of the re-architecture, we wanted to increase that to help facilitate your growth. Each POP will now have between 100Gb and 300Gb of both transit and peering connectivity available for it. These connections are all delivered over 100Gb, which ensures the UKFast network is capable of delivering a greater throughput for the future demands of our clients. As we now connect within more POPs and to a larger range of peering and transit connections, you should experience a further improvement to the latency within your solution.
"Overall, this means our UK network is being upgraded from 60Gb/s to 1.0 Tb/s, which is a massive 17-fold increase. We're building resilience, decreasing latency and delivering a landmark improvement to future-proof our entire network." 
Advantages for clients
"Even though UKFast clients may not see a difference in their day-to-day activities, there are some really big wins as a result of the changes. For us, the main considerations were how we can safeguard our clients' solutions and mitigate any problems we've faced in the past.
"Upgrading the network enables us to provide even greater capacity and resilience. Increasing the number of POPs on our network means we're now running at N+4 redundancy – which gives our clients peace of mind that we can keep their uptime to a maximum.
"It's also a big win for security. Before, for example, if an 11Gb/s DDoS attack hit a 10Gb/s peering connection then it would potentially cause poor performance and increase latency. Now, with those same connections increased to 100Gb/s, we're able to sustain much larger attacks and keep solutions online even when under attack.
"On a wider scale, we're also merging our UK-based network with our global DDoSx® network. As part of our investment in eCloud®, this will allow clients to expand their global presence and the number of sites within which they host their applications as we start to roll out compute resources in the locations currently offered by DDoSX. This is initially limited to Manchester, London and Amsterdam but the plan is to continue to build out eCloud into the POPs that make up DDoSX. It also means our overall global network is 1.7Tb/s – which significantly enhances capacity, resilience and security for all UKFast clients."
Discover how the UKFast network can facilitate rapid growth while providing maximum uptime and security for your business.