An Insight into Work Experience at UKFast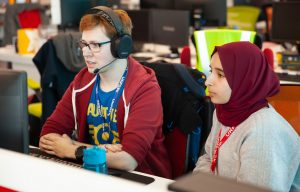 We love welcoming young people into the business here at UKFast. It's so important to gain experience in your industry, and we do our best to give work experience students the best insight into what we do when they visit.
College students Holly and Kate joined UKFast for a week with a view to getting into the technology sector after leaving college. Let's find out about their week with UKFast.
What made you come to UKFast?
Holly – We were asked by college to do a week of work experience, and UKFast was recommended by our teacher. We thought we'd give it a try and see if we heard back, and the company is ideal!
Kate – We're interested in cloud hosting and server hosting, and pursuing tech as a future career. We looked at IT companies and anyone offering experience in computer science.
What have you been working on?
Holly – We've been with the tech team most of the week. We worked with the commercial guys and the front of house team one day. Mostly we've been shadowing the team, learning about lines to use in Linux and how it's different to Windows, listening to phone calls, looking at databases and figuring out how everything operates.
What has been your highlight?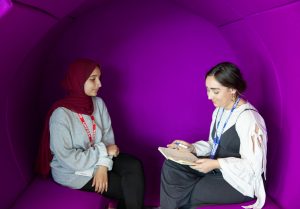 Kate – I've really enjoyed spending time with the commercial team, listening to the calls, learning about the products and observing the sales techniques.
Holly – For me it's been my time in tech. I've loved watching the team find solutions to people's problems and deal with complex issues. The team were always so patient and comfortable.
What have you gained from the experience?
Kate – Firstly, we've gained knowledge. It's our first time inside an IT company. I've definitely improved my communication skills by meeting lots of new people. Everyone is so lovely and welcoming – their smiles make your day.
Has it changed or reaffirmed your career aspirations?
Kate – It's definitely confirmed to me that I want to go into the technology sector. I'd really like to come back to UKFast for our university placement in a few years. We're both planning to study computer science and then specialise in cybersecurity.
Holly – It's good to show we aren't stereotypes. It's empowering to be young women aspiring to get into tech. We've spoken to lots of women in the industry here. Tech is never-ending – it's taking over the world – and there's always something to learn, so there's no limit on what we can do as women.
We just want to say a huge thank you to all the staff at UKFast for the past week!
Interested in joining one of the UK's top tech teams?