Five Ways Cloud Transforms Your Business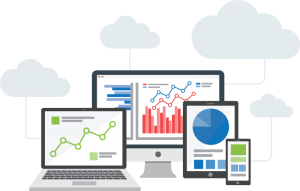 In a hyper-changing digital market, keeping up with customer demand and ensuring operational success is tough. Businesses have got no choice but to adapt to the landscape and embrace transformation through the cloud.
Cloud allows your infrastructure to be converted into a scalable set of applications, saves money and increases reliability. But how? Let's delve into the advantages of cloud migration.
Reduce your costs
Migrating to the cloud can significantly lower your IT costs in two ways. Firstly, it saves you the price of purchasing, managing and upgrading IT systems. There is no need for in-house server storage or on-premise infrastructure.
In addition, entering into a pay-as-you-go plan with your cloud hosting provider means you only pay for what you use.
Improve your reliability
Using cloud services eliminates redundancy and susceptibility to changes while ensuring that your information is kept highly available. The problems of server failure and downtime are significantly reduced. Hosting providers have efficient recovery protocols and teams of experts who know exactly how to get you back online as soon as possible and in line with your Service Level Agreement.
For example, UKFast's industry-leading SLA assures you expert advice from a qualified engineer within 15 minutes of being notified.
Expand your connections
Cloud is improving collaboration across the globe, allowing you to meet tighter deadlines and expanding customer demand. Access to information transcends location, and means employees can stay linked to the team. Important data can be shared in real time, speeding up your operations and allowing you to deliver a more efficient service.
Increase your scalability
The ability to scale up or down globally in a quick and hassle-free way allows your business unlimited opportunity. You can expand and optimise existing computing resources, as every application and piece of infrastructure can be scaled up to handle increased load. This means your business is able adapt instantaneously to meet changing customer demands.
Ease your management
A centrally administered procedure allows you better maintenance ability and places the accountability with the service provider. You can reinvent your business models through the migration process and improve your service delivery. Cloud computing enables you to perform processes much more efficiently, driving profitability.
There's no doubt that cloud migration is transforming businesses across the world. Are you fully reaping the rewards of the most innovative trends? Cloud hosting from UKFast delivers cutting-edge technology bespoke to your business, to get you ahead of the curve.
Discover all the latest cloud updates and expert predictions in our latest whitepaper: Cloud Trends 2019