Five Top Tips for Improving Your SEO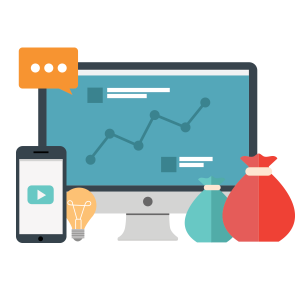 We get it. Your online business is doing pretty well. You've got a steady level of traffic consistently making its way through your virtual shop doors. But how can you increase this traffic? And, more to the point, how can you harness the power of SEO to increase your traffic for absolutely no cost?
SEO (short for Search Engine Optimisation) isn't just about Google being able to find you in the billions of sites on the wonderful World Wide Web. Instilling great SEO practice in every part of your website is crucial for providing an enhanced user experience and building trust with your consumers. In turn, this increases your traffic and thus your conversions and profits – what's not to like?!
So, what can you do to improve your Search Engine Optimisation?
Research your keywords
How can you have an effective SEO strategy without knowing which keywords are going to drive the most traffic to your site?
Make a list of all your site pages and map out two appropriate keywords for each one. Your homepage, product and category pages should be top priority, with every single one of these types of pages given their own set of keywords. This might sound like a big task, so it's crucial to tackle the most important pages first and then make your way down the list.
Your keywords are now your life
Before you optimise anything like your meta tags, your URLs and your actual page content, you must come to terms with the value of your hard-researched keywords.
To achieve the best SEO rankings, your chosen keywords must appear in your meta tags, your URL and your page content. There's no hard and fast rules for how many times your keywords must appear in your page content. But aiming for around 40x keyword one and 20x keyword two is always a good start.
Optimise your meta titles, descriptions and H1s
Write a unique meta title, meta description and H1 for each page on your site.
If you haven't got many pages on your site just yet, you are in the perfect position to ensure each and every page, now and in the future, follows this top tip. If you have hundreds of pages, put the bulk of the effort into your most important pages, optimising the meta tags as much as possible. Then you can use a template approach for optimising the rest.
It's important to break the templates down into categories so you still have a sense of uniqueness for most of your pages.
Optimise your URLs
When your eCommerce site really gets going your URLs can get a little messy, take this example:
www.topshop.com/en/tsuk/category/clothing-427/t-shirts/N-82zZqz6Zdgl
You want your URLs to be as clear and readable as possible. Take this format, for example:
com/category‐name(category page)
com/category‐name/subcategory‐name(subcategory page)
com/category‐name/subcategory‐name/subcategory‐name(sub‐subcategory page)
com/category‐name/subcategory‐name/subcategory‐name/product(product page)
For a great URL, keep it as short and sweet as possible. Make the hierarchy and context of the page clear and avoid URL parameters where possible. It's also worth noting that underscores, spaces and any characters in your URL other than hyphens are a huge no. Anything after these characters will not be read as part of the URL, leading to broken link. Always use hyphens as your word separators.
Use HTTPS across your entire site
Not strictly an SEO variable, but using https is an absolutely essential step to improving your search ranking. However, so many sites still aren't implementing this simple measure!
Pretty much every eCommerce site out there features forms which require users to fill out their personal information. So you have to make sure ALL this information is encrypted and protected.
Google has also confirmed that HTTPS is now used as a ranking signal. This means if you're not using https site-wide, your ranking can be hugely affected.
We hope you found our top tips useful. For even more guidance on how to improve SEO and increase your conversions, download our Increasing Conversions Toolkit for FREE, now!
Want to improve your eCommerce site?
Speak to one of our eCommerce experts today and discover how UKFast can help you skyrocket your conversions.