The UKFast Dogs Giving Us #FridayMotivation
Happy Friday everyone! Today we are celebrating the most fluffy, loyal and playful members of the UKFast family – the team dogs!
Our office dogs boost morale and the overall wellbeing of the team, which in turn improves everyone's productivity. Plus, a study at the University of Manchester last year found that pets help their owners to manage their feelings and provide a powerful distraction from the stress of mental health problems.
Get to know our favourite canine companions and what makes them tick. Spoiler alert: cuteness overload.
Snowy
Age: 14

Favourite thing: Being (slowly) chased around the office while periodically stopping to sniff at things.
Personality: Snowy adores coming to work, and waits for her owner in the hallway every morning. Once she is here she causes great hilarity due to her general sassiness and refusal to do what she's told. She regards commands as guidelines. Someone once told me "Westies don't have owners. They have staff." It's true.  Being very old, she sleeps for much of the time. But periodically she will wake up and bark until someone plays with her. Usually this involves a very slow-motion chase through the office.
Lily
Age: 5
Favourite thing: A rich tea biscuit dunked in a cup of tea.
Personality: Lily is one of the happiest dogs you'll meet! She always wags her tail and often has a smile on her face. She is happiest when she's had a long walk with her brother and comes home to a big meal and lots of cocktail sausages. She loves a cuddle and especially a belly rub. If you give her ten seconds of attention she will be your bestie forever! She's just an all-round top dog!
Archie
Age: 6
Favourite thing: Tennis ball
Personality: Archie is crazy, calm and collected. If it can fly or run in the countryside, he's chasing it to the next field and no amount of calling or whistling will bring him back.
Casca
Age: 2
Favourite thing: Food, balls and shoes (just holding them, not chewing).
Personality: Casca has been coming to UKFast since she was ten weeks old. She's pretty chilled out and loves curling up on the sofa. At work she has her favourites and whenever she sees them will wag so hard her entire body wiggles. She also makes 'Chewbacca' noises when trying to get people's attention.
Marshall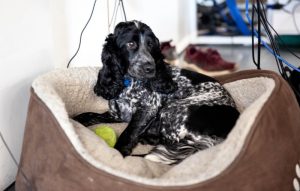 Age: 18 months
Favourite thing: A three-way tie between Saturday morning cuddles, sticks and licking your face.
Personality: Marshall is very serious about his marriage to Casca and wants to be the perfect husband. He is the bread winner in the stick collection, a lover of human attention and always wants to get his point across – although I'm not sure where he gets that from…must be his mum.
Mary Jane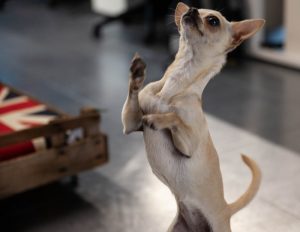 Age: 7 months
Favourite thing: Children, grapes and licking faces.
Personality: MJ joined the company just after Christmas and since then has made a massive impact at UKFast. To date she's overseen the trimming of the grass in the doggy area, assisted the builders with some heavy lifting and is helping to inspire the next generation of small dogs through her work in the UKFast community.
Tuco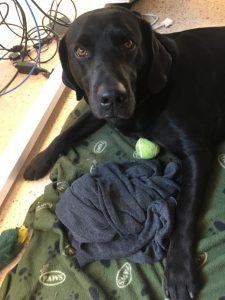 Age: 4
Favourite thing: Peanut butter and his tennis ball.
Personality: Tuco's best friends are Sandy the dog, a duck, a pheasant and an armadillo, who he often plays with. He is partial to the occasional poppadum and slice of toast. He gained his name from Breaking Bad's Tuco Salamanca. He's a calm and caring dog, who enjoys long walks in the countryside and a nice swim. This prize-winning pedigree also bagged three awards at last year's Todmorden Agricultural Show (the highlight of his social calendar), including Waggiest Tail, Dog Most Like Owner and, of course, MOST HANDSOME BOY!
Want to join a multi-award-winning family business that believes in promoting the best company culture?