UKFast Product Updates: IOPS and VM Encryption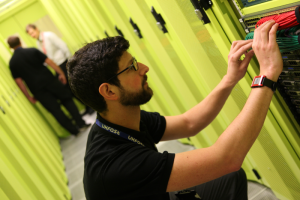 After the launch of UKFast APIs, One-Click Apps and High GPU last month, we're continuing the momentum with new updates to VM encryption and IOPS today.
Here are the latest product updates you need to know about.
IOPS
IOPS (input/output operations per second) is a measure of how fast you can use your storage. As part of our aim to continuously improve the performance of your solution, we're upping our basic levels of IOPS and increasing the IOPS for each tier. For example, customers who are currently on 500 IOPS will move up to 1,500 IOPS and so on, depending on your tier.
We're also increasing the maximum IOPS that our customers can obtain on public SAN. So, previously if you wanted more than 2,500 IOPS you needed a private SAN, whereas now you'll be able to go up to 10,000 IOPS before you need a private SAN.
This update is something to really get excited about as it brings the cost of IOPS down while giving you better performance.
The number of tiers within eCloud Public is also being increased. Three tiers are increasing to five. You'll be able to go up to 2,400 IOPS per VM instead of the current maximum of 600 IOPS.
VM Encryption
This is our latest offering on eCloud and applies to all non-clustered VMs on eCloud Public, Hybrid and Private.
This new feature essentially wraps your VM in an encrypted bubble and encrypts all data that is written to disk. UKFast VM encryption uses the standard VMware-based encryption, utilising AES 256 as its algorithm.
Our VM encryption is FIPS 140-2 Level 1 compliant with regards to our encryption key storage, which provides reassurance that your data is encrypted at rest on our arrays and in transit across our storage network.
It's worth noting that VM encryption is an additional layer of security and does not replace your current security measures. You still need to secure your VM as you normally would if you want to prevent people gaining access to your data via the internet. But from the infrastructure side, it gives you that extra layer of security and helps with you to obtain PCI compliance.
That's all the product updates for now! Stay tuned for more in the coming weeks.