Ian Hammersley's Top Tips for Building a Brand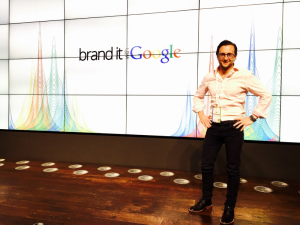 In last week's UKFast webinar, we gathered a panel of eCommerce specialists from across the industry to discuss what makes a great eCommerce brand.
Included in our guest panel was CEO of Smartebusiness and author of The Ultimate Guide to Ecommerce Growth, Ian Hammersley. Today, Ian shares his top tips for building a successful eCommerce brand.
*
Consider the market square test
Online customers are faced with countless retailers all selling the same thing, so as a retailer you have to think about how you can stand out from the competition.
Imagine you are at the back of a market square, and the stalls at the front are offering free delivery, and a 365-day return policy. They're also offering £20 off your order if you buy today and guarantee to be the best price. Your stall is at the back, more expensive, your delivery is 3-5 days and your returns policy is non-existent! Who would you buy from?
Before you even come to think about building a brand, make sure the value proposition is right. This is the first step to online success.
Don't compare yourself to the big retailers
The biggest mistake you can make when you're still a small eCommerce store is comparing yourself to the big retailers that have multi-million pound advertising budgets.
What most small retailers don't consider is that these huge companies were in exactly the same position when they first started out. It's taken them years to build their brand and they have been extremely successful, but everyone starts somewhere!
A really cool trick to use is Wayback Machine to look at what the big brands' messaging, CTAs and USPs were when they started out. It's fascinating and really helps when thinking about your value proposition and your strategy for growing the business and your brand.
Are you selling problem-solving, rational products or emotional, lifestyle ones?
A product normally falls into one of two camps; it's either a rational, problem-solving purchase or an emotional one. And this completely dictates what your eCommerce site says and does. Think about the differences between selling a luxury throw for the sofa and selling a car battery:
With the luxury throw we're selling the dream, a lifestyle – people buy it just because they want to. Whereas if I tried to get you to buy a car battery when you didn't want one, I couldn't even pay you to buy one. But when you need a car battery it's a life or death situation and you need one NOW!
The car battery is such a problem-solving, rational purchase that you have only four hours to get the sale, but the luxury throw is such an emotional one that you might have 30 days to get the sale. You can see here that the brand messages are completely different and so the eCommerce site has to be also.
Are you selling your own products?
Consider the differences between AO.com and Boohoo.com:
AO sells other people's brands. The value is in the brands it sells so it has to focus on something else when it comes to branding. AO chose brand values of price, availability and service. Boohoo sells its own brands so this is a completely different proposition and focus. It focusses on fast fashion and playing with the pricing architecture by offering time-bound deals.
Thinking about whether you sell your own products or other people's is a massive factor when it comes to building a brand as it will dictate your whole offering.
In conclusion
Building an eCommerce brand doesn't happen overnight. You have to first ensure that the fundamental drivers of your business are in place and then start to create that emotional connection with your customers.
And remember, eCommerce is a process. You will always be making tweaks to keep up with your customers' needs. The worst thing you can do is think that what is working now will work forever. You will become stagnant and your customers will start to buy elsewhere.
Innovation and new ideas will make you stand out from the rest of the crowd. But make sure you do your research and make sure your innovative ideas are going to delight your customers! After all, your customers are key!
Get more top tips and insight from our range of guest blogs here at UKFast, from experts across all areas of business and tech.