Final Spaces Left for Cloud UK Live 2019
There's only five days left to register for Cloud UK Live 2019 so claim your free ticket now!
If you want to hear the latest in technology and cloud trends, take part in exclusive one-to-one workshops with cloud hosting experts and claim fantastic free educational resources, register now for this incredible event!
Join us at UKFast Campus in Manchester on Tuesday 19th March, or The Shard in London on Wednesday 20th March for a morning packed full of cloud insight.
There is only a few seats left remaining for both events. To avoid disappointment register for your seat now and guarantee your opportunity to discuss the very latest in cloud with like-minded peers. Plus, claim your free ticket when you use promotional code CLOUDFREE!
Still unsure whether this event is right for you? Check out our recent blog: Six Reasons Why You Need to Attend Cloud UK Live 2019.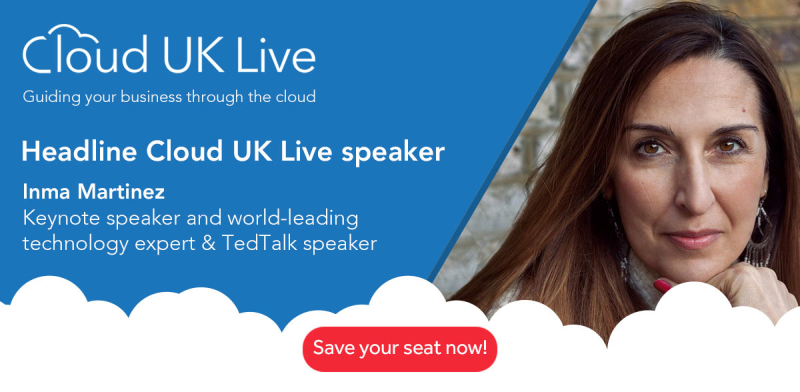 Here's a quick reminder of what's on at Cloud UK Live next week.
Incredible talks and panel discussions
You'll hear from cloud experts about the latest trends taking the cloud world by storm, how to make the most of your data and how to plan a successful digital transformation. You'll also learn how to secure your business and fight the most common cyber-threats from leading cybersecurity professionals.
Cloud specialists aplenty
It's not every day you get to hear from experts in the cloud industry!
Our guest speakers include:
KEYNOTE SPEAKER Inma Martinez, world-leading technologist and industry visionary
Dr Chris Folkerd, Director of Enterprise Technologies at UKFast
Matt Summers, cybersecurity expert at Secarma
Matt Bibby, Managing Director of ClearCloud
Arlene Bulfin, Director of People Development at UKFast
Speakers from HPE, VMware and Intel
One-to-one clinics
In one-to-one clinics at Cloud UK Live, our hosting specialists and solutions architects will build the perfect cloud for your business. We know that every business has unique hosting requirements, so it's crucial that your cloud solution is completely bespoke and suited to your needs.
Your free phishing audit
As well as your free cloud pocket guide, UKFast's latest cloud whitepaper, cloud checklist and a complimentary server scan, claim your free phishing audit when you attend Cloud UK Live.
We hope to see you there!
Expand your cloud knowledge and find the perfect cloud solution to grow your business in 2019. Save your seat for Cloud UK Live now.