The World Wide Web: 30 Years of Shaping Society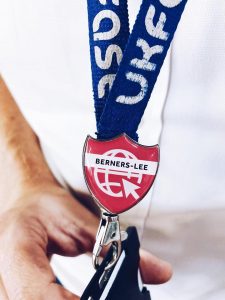 Today, exactly 30 years ago, Sir Tim Berners-Lee had a simple idea that would change the course of the digital world forever. It was, of course, the World Wide Web.
In the past three decades there have been countless inventions that owe their success to the WWW. Without it, there would be no URLs and therefore no websites! And without this incredible, free online platform where people can create and drive innovation, we wouldn't have half the cool stuff we base our lives around today.
Without further ado, which society shaping concepts can we thank the WWW for?
Google
In 1998, Google was born. The American tech giant was first created as a company specialising in internet services including advertising, search engine and cloud computing.
It quickly became a global success. The verb 'google' was even added to the Oxford English Dictionary in 2006, as the phrase 'google it' became so mainstream. It's hard to believe there was a time you couldn't google everything and anything in the world. How would we live without our beloved Google?
Social Media
We've come a long way from the days of dragging your household's one landline phone into the cupboard under the stairs so you can talk to your friends in peace.
In the early 2000s, the first social media sites to be used by the masses were launched. MySpace and LinkedIn were swiftly followed by Facebook and YouTube. Twitter, Tumblr, Spotify and Pinterest then began popping up to fill the gaps that these existing channels could not.
Fast forward to today and Facebook, Instagram, Twitter and Snapchat are some of the biggest companies on the planet. Facebook's annual revenue for 2018 alone surmounted to $55.8bn! Social media owes its success to the World Wide Web, as do the now incomprehensively rich founders of these companies.
eCommerce
Can you imagine a world where the only way to buy anything new was to actually walk around the shops looking for what you wanted? The world of online buying, fast fashion and online businesses in general wouldn't exist without the WWW.
The eCommerce industry has grown exponentially over the last decade or so. The activity of trekking around the high street has been replaced by highly personalised, super speedy websites that offer same day delivery and require minimal effort for maximum satisfaction. Last year was a record year for online spending in the UK, with sales exceeding £28bn in the first half of 2018 alone.
Streaming services
Remember when you used to have to find a clean tape, stick it in your VHS, and wait for your favourite programme to come on so you could record it? Nowadays, video players have become collectors' items. And, you guessed it, it's all down to the WWW.
Streaming services like Netflix, Amazon Prime, Now TV, HBO and so many more are all over the Web! DVDs are feared to be going the same way as video tapes as we opt for the on-demand shows and subscribe to instant viewing of just about every film and box set out there.
Of course, this is but a snapshot into the innovations facilitated by the World Wide Web in what has been a fast-paced 30 years for technology. After all, if you want to find an exhaustive list you can just google it.
So, here's to 30 more years of wonderful, society-shaping innovations owing their success to the WWW. Thank you Sir Tim Berners-Lee!
Keep your website safe from the ever-increasing number of DDoS threats. Don't let DDoS attacks get you down in 2019.