Billy's UKFast Apprenticeship Story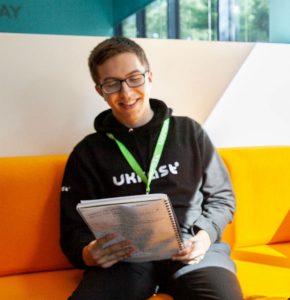 To celebrate National Apprenticeship Week over the last five days we've explored the advantages of apprenticeship programmes to business owners and to young people. We've also heard from UKFaster Katie as she shared her story of completing a customer service apprenticeship with us.
Today, we're sharing the story of infrastructure technician apprentice Billy. What is Billy's apprenticeship story?
What apprenticeship are you currently doing?
"I'm currently on a Level 3 Infrastructure Technician apprenticeship here at UKFast."
What does it involve?
"Every day I'm learning something new. The programme involves a lot of revision, exam work and practising everything I've learnt on the tech floor. I've learnt a lot about Linux and networks.
I recently passed my Linux Essentials exam. I'd never had any experience with Linux before I came to UKFast so, looking back, to pass this exam is a huge achievement for me and something I'm really proud of. I'm also sitting my networking exam in the near future so currently I'm revising a lot for that!"
Why did you choose an apprenticeship?
"I've never really been interested in pursuing the university route. With all the fees and debt involved it was never something that appealed to me. I wanted to earn while I was on the job and so an apprenticeship seemed a much better option.
I'd choose this route again and would highly recommend it to anyone who wants to go into a tech career. The way the apprenticeships are run at UKFast works perfectly for me. I get all the support that I need and I don't feel I'd have received the same level of one-to-one learning, mentoring and support if I'd gone to college or university."
What's so great about being a UKFast apprentice?
"For me, there's three things that really make UKFast's apprenticeship programme stand out.
Getting to know all the ins and outs of what happens on the tech floor.
There's so many people working around me that have lots of experience. We're always working with the newest tech and working to create better services so it's exciting to know I'm part of a team that's always thinking of new tech ideas. I've still got one year to go on my programme and already feel like my skills have developed significantly since I first started. Everyone is always willing to help me learn more, too.
Support.
I've got to give a huge shout out to my manager as he helps me out a lot when it comes to learning on the tech floor. If I don't know how to solve an issue he knows what to do and is always super supportive. There's so many people like this on the team so I've always got someone there for me.
UKFast people.
The people here are great. I get on really well with my team and everyone is so friendly and always wanting to help each other out. Getting to know everyone at UKFast has definitely been my favourite part."
What is your advice to those considering an apprenticeship?
"Just go for it! If you want to do an apprenticeship you have to put yourself out there. You can't sit back and just let things come to you; you have to push yourself so you can do what you want to do. Believe in yourself and push yourself, because you can definitely achieve everything you want to!"
Hear from education experts, and past and present apprentices, as they discuss the advantages of apprenticeships to businesses and young people in our latest webinar.