Achieving #BalanceForBetter with Gail Jones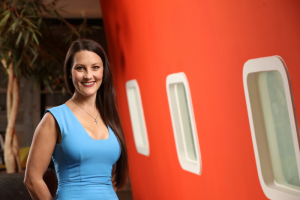 In today's very special International Women's Day blog, we're hearing from co-founder and MD of UKFast Gail Jones.
*
As a working mother with four daughters, does it bother you that we're not doing enough as a society to promote gender equality?
"Of course it does. But there is little use in becoming frustrated. Instead, that energy needs to go into making a difference.
"I am proud of the 0.9% mean gender pay gap that we have at UKFast and of the 50/50 gender split in our senior management. Yet we still have work to do in terms of gender parity in the technical areas of the business. That's why, although I don't necessarily enjoy public speaking, I am happy to take the stage to represent women working in the industry.
"I teach my daughters to strive to be the best at whatever it is they want to do – regardless of whether that's a male-dominated arena or not. They can achieve anything they set their minds to, which is exactly the message I share with any young people I encounter. It's so important to help young people be aspirational, to remove those limiting beliefs that say 'because I am a girl I can't…' or 'because of where I am from, I can't…'"
Why is it important to you that more is done to encourage young women to pursue careers in male-dominated industries such as tech?
"If you look at this logically there are more than 33 million females in the UK. Research actually shows that there are marginally more females than males in this country. That's a huge amount of untapped resource that could really drive industries lacking gender parity.
"Tech has historically been a heavily male-dominated industry, and the perception supports this. It's that perception that is key. The only way to shift that is to show women and girls that a career in tech is just as much an option for them as it is their male counterparts.
"It's about changing that perception and showing representation of the women who are having a huge impact on the tech industry, and have been for many years. It was a woman, Margaret Hamilton, whose code got humans to the moon!"
How have you ensured UKFast has had a good gender balance from the start?
"It was pretty easy. Lawrence and I set UKFast up together so there was a gender balance naturally from day one. From that point, we've always hired or promoted the best person for whichever role we're recruiting – regardless of gender. We use psychometric testing and a variety of recruitment techniques to help us to really get to know anyone applying for a role so that we know they'll contribute to our culture rather than diluting it.
"The challenge comes in the pipeline of people coming through to apply for technical roles. We see a huge imbalance in the numbers of men to women applying for roles in technical areas, and significantly more women applying for creative roles. This has encouraged us to reach out to more girls' schools to run code clubs and workshops to show them the opportunities that a career in tech holds."
What are your top tips for achieving #BalanceForBetter?
"It's something we're all learning as we go really; there is no single answer to redress the gender balance but I think it starts with putting yourself out there as a role model. Share your experiences. Representation is important for young people, which includes gender, race, sexuality and more. Be proud of who you are and what you've achieved and recognise how that can inspire young people into the industry.
"You can't manage what you don't measure, so look at the teams within the business, look at the numbers of people coming through the recruitment process. Is there something you could do to appeal more to all genders, to different backgrounds? Are you communicating in a way that inadvertently excludes sections of people? Language is powerful, even just the words that you use to write a job advert can have a huge impact on who applies for the role.
"Be open and honest. We all know that there are challenges with gender parity in the tech industry and across business in general. Only when we have open and honest conversations about the state of play can we really start to work out what needs to be done to drive positive change."
Read more guest blogs from a range of industry experts on business and technology topics.