Katie's UKFast Apprenticeship Story
In our first UKFast apprenticeship story of the week, we're hearing from Katie. Having recently completed her customer service apprenticeship, Katie is an integral part of our UKFast Events team.
What's Katie's experience of a UKFast apprenticeship?
*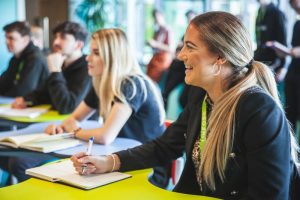 Working in events had always been a goal of mine, but I had no idea how to get into my dream career. In the area where I live, there only seemed to be apprenticeships available for accountancy and things that I didn't want to do. So, when I left school I decided to go to college to see what that could lead to.
By chance, I heard about the apprenticeship programmes at UKFast. I decided to make the change from college life to become a UKFast apprentice.
What I've learnt
When I first started my customer service apprenticeship at UKFast, I spent an equal amount of time working in our events and front of house teams. This allowed me to gain experience in all areas of customer service and hospitality.
Working with the front of house team involved greeting the UKFast employees, welcoming visitors, and organising their passes and refreshments. In events, I helped to organise and run both internal UKFast events and external events for paying clients.
I've learnt so much throughout my 18 months here so far. Choosing an apprenticeship scheme has allowed me to gain lots of experience and incredibly valuable qualifications. Before I started I had no idea how to speak to new clients or maintain professional relationships. Now it's part of my everyday role and my confidence in dealing with people has grown significantly.
To organise and run events also means we have to coordinate lots of different people to achieve the perfect event setup. Because of this, my organisational skills are better than ever! I'm also now used to working under pressure and I know how to deal with any problems that arise while running our events.
I don't think going to college or university would've given me the same amazing opportunities as being at UKFast has.
My favourite parts
One of my favourite bits about my time at UKFast is when we had our first paying client event to organise. The client wanted a festival so we were provided with a theme, a budget and had to organise absolutely everything. From the stages and guests, to food and entertainment; we did it all!
I also love watching the transformation of a normal space into an event space. There's something really special about seeing an exciting space come together. Seeing people's happy faces when they first walk into the room is so rewarding.
Being part of a big team like UKFast also means there's lots of opportunities to work with different people around the business. I've got to know so many people with so many levels of experience and I've learnt something new from all of them.
My advice to others
I personally found an apprenticeship was the right choice for me because I prefer coursework to exams. There are times you're learning in a classroom and completing your coursework. But the majority of the time you're working with the team and learning on the job.
As long as you're doing an apprenticeship in something you're really passionate about, I'd say you should definitely go for it. There's so much choice out there now that there will be something for you.
Explore our UKFast apprenticeship programme and discover how we can help you start your career today.