Cloud UK Live 2019: Keynote Speaker Announced!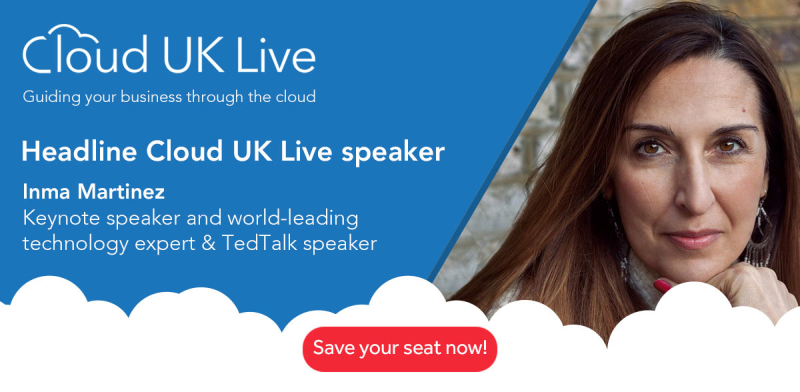 This month, we're hosting Cloud UK Live in Manchester (19th March) and London (20th March).
With only two weeks to go until this fantastic cloud event, have you saved your seat yet? Well, if you needed yet another great reason to reserve your place, today we're excited to announce our keynote speaker!
World-leading technology expert and TedTalks speaker Inma Martinez is headlining Cloud UK Live 2019.  Inma is considered by Fortune and Time as one of the world's leading digital media strategists. Governments and private corporations alike seek her expert advice on how to address their digital challenges.
Join us at Cloud UK Live to hear her deep insight into the world of cloud and gain expert tips to aid your digital transformation.
Cloud UK Live speaker line up:
Are you making the most of cloud? Are you struggling how to choose and implement the best solutions for your business? Do you want to know how you can optimise AWS and Azure platforms?
In expert-led talks and panel discussions, Inma will be joined by cloud specialists from some of the world's leading tech providers to help answer your questions. UKFast's own Director of Cloud Technologies Dr Chris Folkerd will be sharing his extensive knowledge from the coalface of cloud innovation, alongside speakers from:
Hewlett Packard Enterprise
HPE is a worldwide IT and technology provider of enterprise products, solutions and services. A front-runner in the tech industry, HPE is focussed on innovation that fosters business transformation.
An international supplier for virtualised computing, VMware ensures that businesses provide the best experiences for their customers. It streamlines the cloud journey for organisations to become digital businesses, from the data centre to the cloud to mobile devices.
Famous for its vast range of high-performance processors, Intel is a global innovator in cloud computing. Intel is harnessing the latest capabilities in the cloud to disrupt global industries and solve world challenges.
Chosen by governments and major commercial organisations alike, Secarma is dedicated to protecting the UK's businesses from cybercrime. Gain essential cybersecurity advice from Secarma to safeguard your business from online threats now and in the future.
With its team of certified AWS and Azure engineers, ClearCloud helps UK businesses to leverage the advantages of hosting across multiple clouds. Hear from the ClearCloud team about how to best migrate and manage your cloud solution.
And that's not all!
At Cloud UK Live, you'll attend a one-to-one cloud clinic with Dr Chris Folkerd and our in-house cloud experts to find your perfect cloud. Plus, claim your complimentary server scan and analysis report and receive your bespoke recommended cloud solution.
In addition, each business will receive a Don't Get Hooked phishing campaign offer.
Save your seat now
If you're ready to harness the power of cloud, save your seat today and guarantee your FREE place with promo code CLOUDFREE.
See you at Cloud UK Live 2019! 
Watch the highlights of last year's event in this short video.
Make sure you don't miss out on a fantastic, information-packed morning! Get your FREE ticket when you register for Cloud UK Live 2019 with promo code CLOUDFREE.