Meet UKFast's Marketing Director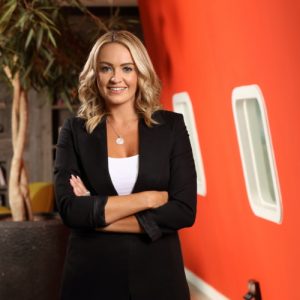 It's guest blog Thursday once again! This week, we're hearing how our Marketing Director Kristina became part of the UKFast family. She also shares her top tips on being successful in business.
Here's what Kristina told the UKFast Blog.
Tell us about your career before UKFast
"Before I started at UKFast, and for the majority of my professional career, I worked for media agencies in London in very broad, marketing-related roles. My roles have always been based on innovation and creativity – focussed on new business innovations, building meaningful business partnerships, creative partnerships and sponsorships for clients.
"Four years ago, I moved back home to the North West. My first job here was with an agency where I learnt how to get the most out of digital marketing. But this was a side-step and I wanted to progress."
Why UKFast?
"In my first conversation with UKFast founders Lawrence and Gail Jones, Lawrence said something to me that made me realise I was entering into something really unique and special.
"He said: "I want someone who wants to be the marketing director of Apple." And from that one sentence I knew that we were on the same page. I wanted to be part of bringing their huge vision to life.
"In my previous roles I've never been able to say that every day is different. But at UKFast I can honestly say no two days are the same. I'm surrounded by people who share my attitude to work. My team is passionate, positive, ambitious, driven and forward thinking. For the first time in my career I felt that I really fit in and was made to feel part of a family.
"At UKFast I don't feel like I'm working for someone; I feel like I'm helping to build something. I genuinely feel like I'm making a difference and impact while being totally supported. I'm really looking forward to continuing to transform and grow the business. I think we've only just scratched the surface of what we can achieve. I also want to help improve attitudes to technology, to get the message out there that tech is the hero of all industries but we need to embrace it more."
Any advice to aspiring business leaders?
"I've been lucky enough to surround myself with supportive people and progress quickly throughout my career so far. Here are some key points I've learned along the way:
Never apologise for being ambitious. Ambition is something that should always be celebrated and I think it's within everybody. You have to own it, embrace it, and back it up with your actions.
Be confident in your own skin. This comes with time through surrounding yourself with great people and at some point realising that you can't please everybody. Trust your gut instinct too because your gut is usually right.
Don't be afraid of failure or the word 'no'. It's how you respond, react and move on from challenges that shapes the future businessperson you will be. My biggest learnings have come from failing or people saying no to me. I've also learnt more from the managers I don't want to be than the ones I aspire to be.
You don't know everything. Never pretend to be good at everything or know everything because you will get caught out. The beauty of business allows for shared ideas and knowledge – and we're always learning.
Be honest. A former colleague taught me that you don't have to be sneaky in business to be successful, honesty is important, I apply that in everything I do. You've got to be aware of how people respond to you and transparency is so important to build lasting partnerships.
Set your goals. Always set yourself challenges that you're not afraid to put the work in to achieve because the fulfilment is so worth it. I always set myself a group of challenges every New Year's Eve and, because I've written them down, I always manage to reach them."
Read even more industry insight into technology and business.