#BacktoBasics: Get started with UKFast APIs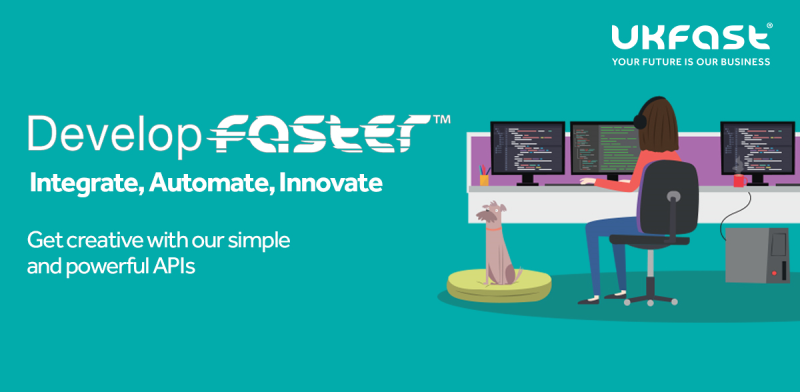 If you've been keeping up with the UKFast news this month, you may have heard that we recently announced our new API-first strategy. Well, today we're here to tell you why we're so excited about this new strategy and the kinds of things UKFast APIs enable you to do.
Let's get to it.
What and why API-first?
Our API-first strategy means all our future innovations are made not with APIs in mind, but with APIs built first. We'll design and build the API for a product or feature first, then use it ourselves to develop, integrate and deliver the service to our customers from within our own systems.
Using our own APIs this way means we're not just the supplier but a consumer too. Experiencing APIs from both sides means we're able to add features and optimisations to meet our needs. It also means we can quickly spot areas of improvement and create an all-round great API experience. All the features we create are available to the customer to integrate into their own systems, creating a streamlined and seamless process of their own.
As it's done right at the beginning of the development, the API is available sooner for developers to start working with. More of our products and services are becoming accessible this way, giving more choice and flexibility on how they are consumed.
Where do our APIs really come in handy?
Right now, you can perform many actions through MyUKFast, and the results of those actions are all automated – but that requires a login and a few clicks around. It's quick, but say you needed to perform this task 10-20 times a day, it's going to become a bit of a drain on time. This is where APIs save the day!
Through APIs you or your developers can write code that automates these actions around your own processes. As a client or partner, you can integrate UKFast products and services into your own systems, or automate a process that is currently a manual one to improve efficiency.
For example:
With our eCloud® API you can automate the processes of creating and destroying Virtual Machines, all with a few lines of code. Maybe your devs need to spin up a VM, run a test and then destroy it once complete. Or, your website needs to scale at points during the month or year. You can develop a process that automatically deploys more VMs when you reach a certain user traffic threshold and then destroys them once your spike has ended. Pretty handy, right?
With SafeDNS you can automate the setup and update of DNS records. The DDoSx® API lets you add domain names that need protecting onto the platform, as well as changing WAF configuration, CDN settings and more. So if you launch websites, you can choose to have DNS setup and the domain protected by DDoSX, all done as part of the automated process you employ to bring that new website online.
The UKFast Developer Centre
To support the use of our new APIs, the UKFast Developer Centre was designed. It has everything you need to get to know your APIs. The Getting Started tab will guide you through the process of setting up your API and getting to grips with keys. The API Guide will also assist you while you're getting started. And, to see detailed information on what you can do with our APIs, and technical information on how you use them, take a look at our developer documentation.
Create a free UKFast Account today and explore our APIs.