Five Reasons to Get Involved with Mentoring
Whether you're the mentee or mentor, mentoring programmes help to expand your network and skillset. They are vital for facilitating both professional and personal development.
No one knows this to be true more than Tech Manchester director Patricia Keating, a guest speaker in our recent UKFast webinar How mentoring helps you and your business.
Tech Manchester is a non-profit organisation. It's helping startups across the North West to grow through events, workshops and online educational resources. Tech Manchester also has its own mentoring programme, which was recently announced as one of three finalists in the Mentoring Programme of the Year category of this year's National Mentoring Awards.
What does Patricia have to say about mentoring?
*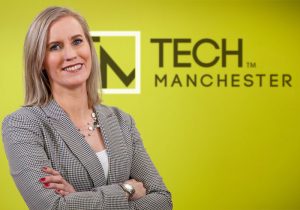 Studies show that three quarters of C-suite executives credit their success to being mentored. And 70% of mentored companies survive beyond five years, compared with only 35% of those who aren't mentored. Other studies show that employees who receive mentoring are promoted five times more often than those who do not – five times!
In our own Tech Manchester study we evaluated our first 12-month mentoring programme. We found that the number of entrepreneurs confident in their business skillsets doubled across 14 key business skills. 94% of startups also rated their mentor's skillset as good or excellent. These positive statistics are reflected by the fact that 87% of mentee-mentor pairs plan to continue together beyond the 12- month programme. Overall, we've helped create long-term business relationships which may not have existed otherwise.
In the words of Reece Douglas, a mentee in Tech Manchester's mentoring programme, Founder of Social Plug, entrepreneur and actor: "I would recommend a mentoring scheme 100% – you would be mad not to."
However, if you still need more assurance here's five reasons why getting involved in mentoring is a great decision.
1.       Employee development
Pairing an employee with a mentor creates a safe place for them to learn and grow, both professionally and personally. In this setup, they are comfortable taking risks and making mistakes. This, in turn, feeds a culture of innovation and creativity.
2.       Leadership development
Both mentors and mentees learn critical management and leadership skills when taking part in a mentoring programme. The statistics show that managerial productivity can increase by 88% when mentoring is involved. The ability to mentor someone is a fantastic life skill if you are, or aspire to be, an effective leader.
3.       Engagement and retention
The overall employee retention rate is around 70% for participants on mentor programmes. This is 20% higher than that of non-participants. For mentees, a mentor is someone to turn to for guidance and valuable advice when faced with an issue that their manager or teammates can't help with. On the other hand, studies show that mentors were more satisfied with their jobs and had a stronger sense of commitment to their organisation as a whole.
4.       Diversity and inclusion
Done well, mentor programmes break down silos and promote diversity of thought, through cross pollinating organisational departments, reverse mentoring or entrepreneurial cross-industry mentoring. A focus on inclusivity within the programme inadvertently connects underrepresented groups to influential C-suite executives and business founders. This creates advocacy and a funnel for development of future leaders which the UK, a nation of SMEs, desperately needs.
5.       Attracting great talent
Having an internally promoted mentoring programme demonstrates that your company culture values learning and development. Employees see their future is being invested in. A mentoring programme promotes a collaborative learning environment where employees are encouraged to gain knowledge from those around them. This in turn attracts people who share these values.
Ultimately, when someone experiences the positive impact of being mentored, they are more likely to volunteer to do the same for someone coming up behind them.
This virtuous circle of mentoring is one of Tech Manchester's legacy ambitions.  Mentoring is a two way street. Start making a difference today.
Watch our UKFast webinar to hear more from the experts as they discuss how mentoring helps you and your business, what to look for in a mentor and more.