How to Build Successful Relationships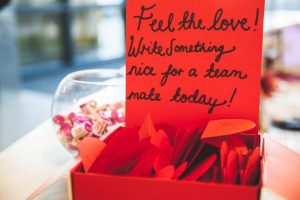 Happy Valentine's Day from everyone here at UKFast! We hope you're enjoying all the love in the air today.
At UKFast, it's our focus on people that sets us apart from the rest. Since the beginning, we've always strived to go that extra mile, whether it's for a client or a teammate.
We believe that the key factors to forming successful relationships are the same for both business and personal partnerships. So many of our business partners have become great friends and we wouldn't be the business we are today without them.
So, what are our top tips to building a successful relationship?
1.       Common interests
As our CEO Lawrence likes to say; it's amazing the difference that like-minded people can make when we put our heads together. Having a common goal or interest that is shared by both people in the relationship is key to its success.
In business, this can be launching a brand new business together or boosting your reach for a campaign. In life, this can be as simple as the fact that you both like a good night out or a walk on the beach. Whatever it is, common interests are vital to make sure you're always on the same page.
For example, when LateRooms.com came to us wanting a super-fast website, able to keep up with more than six million requests per hour, we knew we were a match made in heaven.
Find out more about our relationship with LateRooms.com.
2.       Support
If you've ever been let down, you know how important support is to making a relationship last. When you're experiencing problems, need a helping hand or are just feeling low, it's good to know you have people you can count on to pick you back up.
Support is one of the most important factors of forming strong relationships with our clients. When their previous hosting provider was letting them down, Venntro Media Group knew UKFast was capable of providing a cost-effective solution to support the thousands of websites they operate.
3.       Fun  
No relationship is complete without fun! We love having fun here at UKFast, whether that's through our House Cup games, fancy dress days or taking the whole team and their families for a day out at Chester Zoo. Of all the reasons to nurture your relationships in life, 'just because it makes me happy' should always be at the top of the list.
Find out how we're helping Chester Zoo provide a fantastic online service for all their customers.
As it is Valentine's Day, we'd like to show a little love to all of our fantastic clients and UKFast Partners by saying thank you for the support you have provided during your time with us. And, for any new businesses on the cloud scene, why not give us a call on 0800 231 5917 and find out why our NPS score for customer support is eight times higher than the national average?
With love from UKFast.
Find out more about our award-winning customer support.